PRESS RELEASE
Scott Safety Launches Service and Asset Management Software Solution for FireFighters
---

New app automates equipment testing and inspection process and provides direct communication with service centers

MONROE, N.C. – Scott Safety, a Tyco business, is pleased to announce the launch of a new Service and Asset Management (SAM) solution, a software application that allows fire departments to more efficiently manage inspections, testing, service and reporting of their equipment assets. The intuitive, easy-to-use application runs on a common consumer device such as an iPad or iPhone.

In addition to streamlining inspections and testing of SCBA and other equipment, the solution provides service centers real-time notifications on equipment failure and service requests. SAM's cloud-based infrastructure eliminates on-premise software, databases and paper records. Records are easily accessible online to both fire officers and service centers.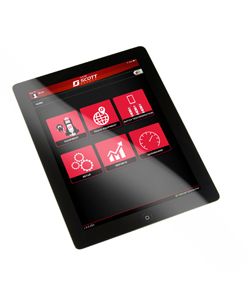 "SAM provides an innovative way for firefighters to inspect and test their Scott SCBA accurately to ensure safety and supports compliance to NFPA 1852 and OSHA 1910.134 standards," said Jeff Emery, Director of Marketing and Product Management at Scott Safety. "It gives firefighters peace of mind that their equipment is in working order and gives the fire chiefs confidence that their people are safe."

SAM is a turnkey solution designed to provide an easier and more effective way to manage equipment assets. Key features include:
Simple and easy to use mobile interface
Cloud-based solution that eliminates on-premise software installation and hosting
Minimal IT requirements
Notifications provide a real-time view of equipment status
Dashboard provides a graphical representation of equipment status based on a user defined time interval
Reports provide full visibility into equipment data and can be exported to PDF for email/print
Digital records eliminate the need to file and manage paper copies, reducing your carbon footprint

Scott Safety will showcase SAM at FDIC booth # 2323.

About Scott Safety
Scott Safety, a Tyco business, is a premier manufacturer of innovative respiratory and personal protective equipment and safety devices for firefighters, industrial workers, police squads, militaries, homeland security forces, and rescue teams around the world. With 14 global manufacturing locations, Scott products protect thousands of individuals each day from environmental hazards including smoke, toxic fumes, combustible gases, falling objects, and contaminants.

The Scott product line includes self-contained breathing apparatus, supplied air and air-purifying respirators, PPE, gas detection instruments, thermal imaging cameras, and firefighter locators. For more information, visit www.scottsafety.com.

Request more info from 3M Scott Fire & Safety
Thank You!