PRESS RELEASE
Secure rectangular quart and half gallon containers with new Ziamatic Bracket
---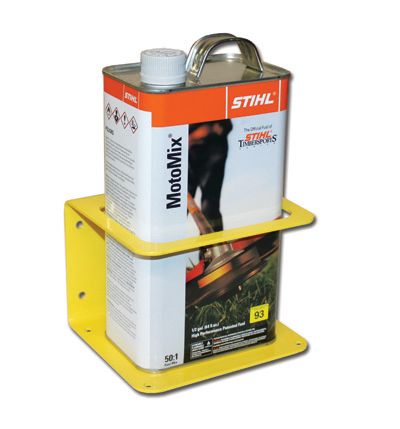 YARDLEY, Pa. — Zico has added another new addition to their exciting line of premix container brackets, introducing the QUIC-MOUNT Rectangular Quart & Half-Gallon Premix Holder, Model QM-PMH-RQHG.
Model QM-PMH-RQHG secures 3-11/16" x 5-1/4" rectangular quart and half gallon cans from popular brands like STIHL, allowing you to safely store premix fuel beside your saws in the compartment where you need it most.
Made with heavy-duty steel and aluminum. Powder-coated yellow for maximum durability and can protection. Bracket lowers risk of tipping, denting, leaking, and puncturing inside the compartment and keeps your supplies easy to locate.
Bracket mounts to nearly any flat surface. Hang the bracket from the compartment wall to save space on the shelf below!
Available now. See it firsthand at FDIC 2018, Booth #1738. For more information please call 1-800-711-FIRE or visit www.ziamatic.com
About Ziamatic Corp.
Ziamatic Corp. (ZICO) was founded in 1958 with the intention of providing the men and women of the fire services industry with products that make their profession safer and easier. Over 50 years later Zico remains a leader in SCBA bracket and ladder rack technology. For more information, please call 1-800-711-FIRE or visit www.ziamatic.com

Request more info from Ziamatic Corp. (ZICO)
Thank You!