PRESS RELEASE
Ziamatic Corp. unveils new brackets for all-in-one regulators
---
YARDLEY, Pa. — Ziamatic Corp. (Zico) presents a new addition to their popular line of strapless oxygen cylinder brackets— the QUIC-RELEASE Strapless "D" Bracket for All-in-One Regulators, Model QR-D-3. Based on the popular self-locking design you know and love, the QR-D-3 features a larger latch opening to accommodate the wider "all-in-one" style of regulators used by many departments today.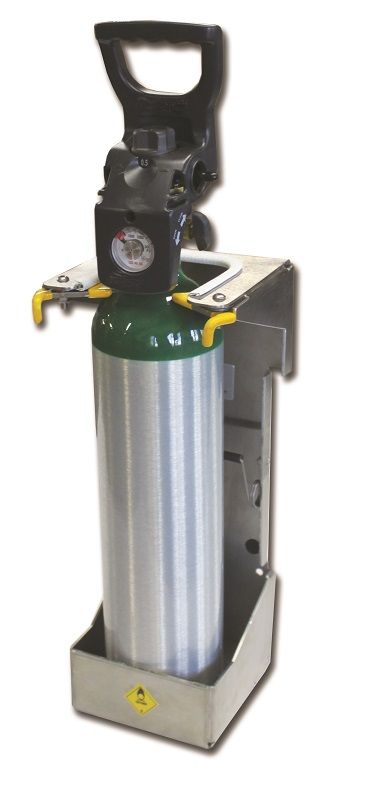 Simply place the cylinder in the bracket and press back through the latch to lock it into place – no straps required. The heavy-duty backspring holds the cylinder against the latch to prevent annoying rattling. To release the cylinder, squeeze the levers to disengage the latch, and allow the backspring to push the cylinder forward. It's that easy!
The QR-D-3 secures standard aluminum, jumbo aluminum, and steel "D" gas cylinders and is made with durable, easy to clean stainless steel. Mounts vertically solo or side by side, and fits within the dimensions of virtually all current "strapped" models for worry-free retrofitting.
A horizontally-aligned version, Model QR-D-3/H, and an "E" cylinder size, Model QR-E-3 are also available.
The QR-D-3 and QR-E-3 lines are rigorously tested to exceed current safety standards. Available now. For more information please call 1-800-711-FIRE or visit www.ziamatic.com
About Ziamatic Corp.
Zico has been providing the men and women of the fire services industry with quality products and dependable service for over 50 years. The company stands behind all of its products, from simple hand tools and wheel chocs to complex ladder racks and SCBA brackets - so when you see the name ZICO or ZIAMATIC, be assured it is of top quality, reasonably priced, and backed by thorough field testing. If you want quality, you want Zico.

Request more info from Ziamatic Corp. (ZICO)
Thank You!