PRESS RELEASE
Zico Launches Three New Solutions for Circular Saw Blade Storage
---
YARDLEY, PA – Keep your circular saw blades secured in the compartment with one of three exciting new mounting options from Ziamatic: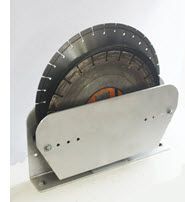 Expandable up to four slots, the QUIC-MOUNT Saw Blade Holder allows you to configure your blade storage in a way best tailored to suit your needs. Slots allow you to organize different sizes and types of blades within a single holder, keeping them all in one place while still easy to identify and grab in a hurry.

Make use of every square inch of your compartment space with the QUIC-MOUNT Saw Blade Shelf Bracket. The bracket attaches to the underside of a compartment shelf, and blades slide in and out, allowing you to secure saw blades in otherwise empty space. An access slot in the bottom of the tray allows for easy blade removal.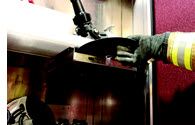 Store your saw blades up and out of the way, secured tightly against the compartment wall with the QUIC-MOUNT Saw Blade Post Mount. Saw blades easily slide on and off the post mount, and are held in place with a special locking clamp–an efficient use of otherwise unused space.

All brackets are made with heavy-duty aluminum, maximizing durability while minimizing rusting and corrosion.

Available now. For more information please call 1-800-711-FIRE or visit www.ziamatic.com

About Ziamatic Corp.
Ziamatic Corp. (ZICO) was founded in 1958 with the intention of providing the men and women of the fire services industry with products that make their profession safer and easier. Over 50 years later Zico remains a leader in SCBA bracket and ladder rack technology.

Request more info from Ziamatic Corp. (ZICO)
Thank You!