UK chief shares value of compressed air foam systems in FDIC speech
---
By Jamie Thompson
FireRescue1 News Editor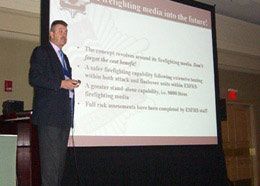 Photo Jamie Thompson
Deputy Chief Large, of the East Sussex Fire Brigade, recounts his experiences with adopting a compressed air foam system.
INDIANAPOLIS — When it comes to the use of compressed air foam systems in tackling fires, it's fair to say the United States has been ahead of the game compared to its UK counterparts.
But things are slowly changing on the other side of the Atlantic, according to Deputy Chief Fire Officer Chris Large.
Large, of the East Sussex Fire Brigade in England, spoke of his personal efforts to see CAFS become commonplace in other brigades during a session at FDIC Thursday.
Large cited its efficiency and effectiveness and positive impact on the environment as the major reasons why his brigade has become the first in the UK to use CAFS.
He predicted its popularity and usage would grow as pressure increases on fire services to become more environmentally friendly.
For the firefighters in his brigade, Large said, its introduction was not simply the implementation of another piece of equipment, it was a brand new way of fighting fires.
He said he hoped CAFS would become one of the main weapons in a firefighters' armory across the world.
U.S. visit
When Large first began looking at CAFS and the benefits it could bring to his brigade, he traveled to Los Angeles and Phoenix fire departments to see how they were utilizing it.
Large told the session the words of wisdom passed on to him by the then Phoenix Chief Alan Brunacini: "The policy comes from God, and she says fire trucks are red and they should have CAFS."
Since the East Sussex Fire Brigade has been using CAFS, Large said firefighters have been particularly impressed by the new ease with which structure fires are contained to the room of origin.
In addition, growing pressure on all organizations – including the fire service – to become greener is another reason to adopt CAFS.
"For me, politically as a chief, this (the environment) is probably the biggest issue in the UK," Large said. "In the UK, the environment is really coming to the fore."
He expressed his sadness at the fact it was not in use in his brigade in 2003, when an off-duty firefighter within his district died in a house fire trying to rescue his brother.
"The house when we arrived was burning completely and flashed over three times," he said.
"I just have a gut feeling that had we pulled a foam jet off of the pump and fired it 20 yards in through the front door, we would have cooled the inside rapidly enough so they might've survived."