PRESS RELEASE
Boston Fire Selects Waterous Pumps
---
Boston, MA. The "First in the Nation" Boston Fire Department has designated the Waterous Company of South Saint Paul, MN as the exclusive manufacturer of fire pumps for its current and future purchases of fire apparatus.
This agreement with Waterous will allow the Boston Fire Department Maintenance Division to conduct warrantee work in house and purchase parts directly from the factory, which will speed up turnaround time for repairs and save the city money.
"I am very pleased that we could work out this agreement with a top quality vendor like Waterous" said Fire Commissioner Roderick Fraser. "Waterous has already begun training our certified Emergency Vehicle Technicians to perform warrantee work and this shows their dedication to us as a valued customer. This will allow the Maintenance Division to get our fire engines repaired more quickly and get them back into service."
Waterous is a global leader in the design and manufacture of pumps, valves and hydrants for the fire service and related industries. The entire Waterous product line is designed and manufactured in the United States.
"The selection of our pumps by the Boston Fire Department validates our dedication to the fire service" stated William L. Smith, President and CEO of Waterous. "The recent delivery of three of our industry leading pumps on KME built apparatus to the Boston Fire Department is only the first part of our task. It is incumbent upon Waterous to provide top notch training to Boston's firefighters and maintenance staff. We feel that our unparalleled ability to provide parts and service over the decade's long useful life of our pumps is a critical component of Boston's decision. We do this through both factory personnel and dedicated local representation such as provided by Bulldog Fire Apparatus in Massachusetts."
"Our dedicated staff is both pleased and gratified by the choice of the nation's oldest professional fire department," continued Smith.

The Boston Fire Department has 34 front line engines in its firehouses. This fiscal year it will purchase three engines as part of its apparatus replacement plan. They will all have Waterous pumps.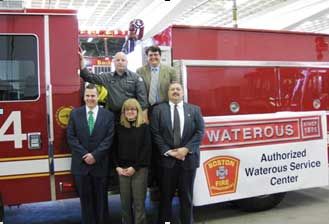 (l-r first row) Fire Commissioner Roderick Fraser, Deputy Commissioner Kathleen Kirleis and Jim Fazekas of Waterous
(top row) BFD Director of Transportation Shawn Herlihy and Jeff Mazza of Bulldog Fire Apparatus