Lighting the way: Whelen's LED lights
Whelen's LED lights have low power and maintenance requirements and offer high longevity and brightness
---
If you have not equipped your apparatus with the current generation of LED light bars and perimeter lights, you are definitely missing the boat. LED lights have low power and maintenance requirements, and offer high longevity and brightness.
Whelen's Inner Edge 6 LED interior light bar is designed for the front windshields of a chief or command vehicle that requires a low, undetectable unit.
The Super-LED light heads are mounted in a rugged housing that fits snugly against the front window of late-model Ford Taurus, Inteceptor, Fusion, Explorer, Utility Interceptor, F250/350, and Expedition; Chevy Suburban, Impala, Tahoe, Caprice and Silverado; as well as Dodge Charger and Durango police vehicles.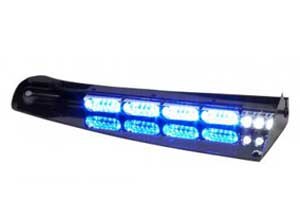 They come in one- and two-piece split housing models.
The two-piece design mounts up and out of the way on either side of the rearview mirror and is available as individual driver- and passenger-side units or as a single passenger-side unit only.
The split-housing model has either five or four light heads with an LED flashing takedown on either side; the one-piece, full-size model has 10 or 12 light heads.
Super-LEDs are vibration and moisture resistant.
Headliner housing is designed to blend with vehicles existing interior and installs to visor anchor points without drilling holes. The switches or control head can be bought separately.
The lights are available in four safety colors: amber, red, blue and white. They come standard with Scan-Lock multiple-flash patterns, high/low power control and California pattern. They also meet SAE and California Title XIII specifications.

Request product info from top Fire Light Bars companies
Thank You!