PRESS RELEASE
Emergency Reporting launches 'Fired Up & Plugged In' Podcast for leaders in fire and emergency services
---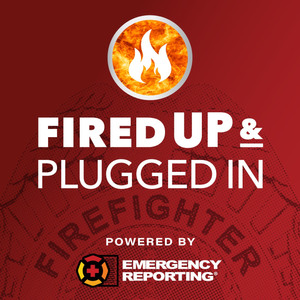 BELLINGHAM, Wash., – Emergency Reporting, the leading provider of Fire & EMS records management software headquartered in Bellingham, Wash., announces the launch of its podcast, "Fired Up and Plugged in," now available on Apple Podcasts, Spotify, and Google Podcasts. The new podcast is intended for current and emerging leaders in fire and emergency services.
The podcast's producer, Tom Louis, Enterprise Training Manager & Subject Matter Expert at Emergency Reporting, says the episodes will offer insight to help fire and EMS personnel effectively lead their departments in the 21st century. In the first of the six episodes now available for download on podcast-hosting sites, podcast host Randy Bruegman (a retired fire chief whose career in local government spanned 40 years) and Emergency Reporting CEO David Nokes discuss organizational intelligence, strategic planning, and visionary principles applicable to any fire or EMS organization. In subsequent episodes, Chief Bruegman and his guests discuss topics like creating a world-class community risk reduction program and measuring a fire department's performance from the customer's perspective.
Louis explained the inspiration behind starting a podcast: "The impetus for a podcast came from David Nokes and Chief Randy Bruegman as they discussed ways Chief B could contribute content as a member of ER's Customer Advisory Board," he said. "Chief B was instrumental (vital, actually) in the success of our first virtual summit, ADAPT 2020. His exceptional reputation in the worldwide fire service is now helping us secure top speakers for our podcast."
The initial plan was to release one episode quarterly, but Louis says the energy, collaboration, technology, and commitment of the ER team is enabling them to do at least two per month. The episodes run about 20-30 minutes long and are free to download.
"We felt it important that, to represent the culture and values of Emergency Reporting, making this podcast available to all in the fire service at no cost was essential as a way for Emergency Reporting to help pay it forward," Chief Bruegman said.
Louis said that launching "Fired Up and Plugged In" is Emergency Reporting's way of giving back to the fire and EMS community in a fun yet meaningful way. "The podcast adheres to our company pillar of 'Relationships," he explained. "Even though data drives the fire service, it's people in the driver's seat…the podcast is a way for people to learn from and connect with each other."
Subscribe and listen to available episodes of "Fired Up and Plugged In" for free on Apple Podcasts, Spotify, and Google Podcasts.
About Host Randy Bruegman
Fire Chief Randy R. Bruegman began his career as a volunteer firefighter in Nebraska. He was hired as a firefighter in Ft. Collins, Colorado, where he served in a variety of positions including engineer, inspector, lieutenant, captain, and battalion chief. He has served as the fire chief for the City of Campbell, California; the Village of Hoffman Estates, Illinois; Clackamas County Fire District No. 1 (Oregon); City of Fresno, Ca. and the City of Anaheim, Ca. retiring in December of 2018 after serving over 40 years in local government.
He is a noted author and lecturer on such topics as leadership and managing change in the fire service and a contributing author of fire service literature including Fire Attack: The Strategy and Tactics of Initial Company Response; Making a Difference: The Fire Officer Role; Surviving Haz-Mat, Haz-Mat for First Responders; The Volunteer Firefighter, A Breed Apart and The Chief Fire Officer's Desk Reference. He has authored five books: Exceeding Customer Expectations, The Chief Officer: A Symbol is a Promise, Fire Administration I, Fire Administration II, and the Principles of Fire and Emergency Services Administration.
He served as President of the International Association of Fire Chiefs in 2002-2003 and served as the President of the Board of Directors of the Center for Public Safety Excellence from 2004-2017. He served as a principal member on the NFPA 1710 Technical Committee, a standard on the organization and deployment of resources in career fire departments for several years. Chief Bruegman is a Fellow of the Institution of Fire Engineers, an Internationally Designated Chief Fire Officer, and a certified Fire Chief through the California State Fire Marshall's office. He has an associate's degree in fire science, a bachelor's degree in business, and a master's degree in management.
About Producer Tom Louis
Tom Louis currently serves as the Enterprise Training Manager for Emergency Reporting (ER). He retired as a battalion chief from the Green Valley Fire District in Arizona in 2013 after serving for 22 years. As a trainer from 2011-2018, he has helped ER customers throughout the United States and around the world.
He graduated summa cum laude from Arizona State University with a Bachelor of Applied Science degree in Fire Service Management. Tom is an avid reader of both non-fiction books and technothriller novels, loves classic and modern Mopar muscle cars, and has a soft spot for retired racing greyhounds.
About Emergency Reporting 
At Emergency Reporting (ER), our mission is to empower first responders worldwide with fast and easy-to-use technology that provides the data needed to keep themselves and their communities safe. Our Records Management and Reporting Software acts as the centralized ecosystem that powers an agency's entire operation, from training and events, to incident reporting and compliance, to real-time analytics and performance feedback through data. As the pioneer in cloud-based Fire and EMS software, ER has always been the smarter way forward for the Fire Service while also managing to be the most user-friendly solution available. Since 2003, Emergency Reporting has proudly supported over 750,000 first responders through this mission worldwide – including DoD/military installations and large entities such as NASA, nuclear power plants, and hospitals. For more information, visit http://emergencyreporting.com.

Request more info from Emergency Reporting
Thank You!