5.11 Tactical announces wildland fire apparel, EMS bags
Traditional law enforcement manufacturer unveils impressive fall lineup for fire
---
By Scott M. Bruner
FireRescue1 Product Editor
5.11 Tactical is a company that's considered one of the industry standards in law enforcement. From bags and cases to tactical pants and flashlights, they boast a significant catalog of products for police. Now they're bringing the same hands-on expertise they use in law enforcement to the fire world. Although 5.11 isn't a complete stranger to the fire business, the three new items they've announced for an autumn release serve as a notice that they plan to be a player in the market.
"We are very serious about the fire business," Dan Costa, president of 5.11 said. "We have a high intensity with our products. We looked at the market. We were willing to make the products if there's a niche available. There's a lot of opportunity here."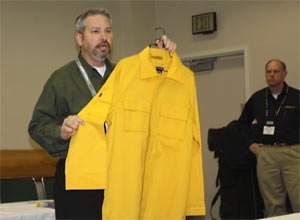 FR-x3 Apparel
First and foremost will be 5.11's new line of FR-x3 apparel. The new apparel is built from the ground up using the Amplitude fabric — a specialty fabric designed for maximum durability and breathability — created by Milliken. The two cornerstones of the new FR-x3 apparel is the 5.11 Wildland Brush Shirt and Pants.
It will come in traditional yellow and is made from a cotton/Amplitude blend that's designed to meet NFPA 1977 specifications. Among the features in the wildland shirt are Velcro adjustable cuff tabs, Velcro flaps on the chest and a stand-up collar. It also includes tilted sleeve pockets and a large button front closure with a covered placket. It is expected to retail for $99.99.
The Wildland Brush Pant is made with the Amplitude fabric and meets NFPA 1977 certifications as an Over Pant. It features a self-adjusting waistband, adjustable Velcro lower legs, and seven utility belt loops. The pants have double knees. They are also $99.99.
"The Wildland shirt and pants are designed by the end user, the wildland firefighter, with all the features they wanted in the product," David Hein, director of merchandising and apparel for 5.11, said. "In this shirt, the simpler it is, the better…This is what they asked for."
5.11 will also be offering their new FR-x3 Class A shirt, a station-wear shirt featuring Amplitude. The shirt is specifically designed for the fire market. Emphasis has been placed on making them as durable as they are comfortable. According to 5.11, the shirt is designed not to wrinkle, shrink, and even in standard blue, not lose any of its color. They will come in short and long-sleeved versions and in men's and women's fits.
EMS Bags
5.11 also announced a trio of new bags for the Fire-EMS market. Their new Responder Series bags will feature water-repellant finishes constructed to withstand disinfectant treatments while being machine washable. The Responder ALS (Advanced Life Support) 2900 and the BLS (Basic Life Support) 2000 bags are built from 1050D nylon and include a reinforced oxygen tank tunnel. Both bags will feature top and side-opening flaps as well as additional storage capacity. They are padded bags and with oversized, glove-friendly nylon zipper pull tabs.
The four modular internal cases of the Responder ALS are removable to allow multiple users to work out of the single bag. The four detachable cases have lockable zippers and are color-coded to store airway kits, IV kits, and basic drug cases. The bags also have hard bottoms, a feature requested by EMTs to keep the bags clean.
The ALS 2900 is expected to retail at $289.99.
You can find 5.11 Tactical and their brands for fire, EMS, and police at www.511tactical.com.

Request product info from top Fire Bags and Cases companies
Thank You!