Pushing back from 'desk bod': Chief officer strategies to prioritize health
The transition from shift work to desk work typically brings a more sedentary lifestyle that needs to be actively resisted
---
Do you have a "desk bod," that is, a body that looks like it sits behind a desk all day?
My desk bod happened when I transitioned from the 24/48 schedule to that of a 40-hour-workweek chief. Fortunately, I was able to develop some strategies to push back from the "desk bod," including actually pushing back from the desk itself and getting active.
I hope this advice will resonate with chief officers who, like me, have fallen victim to the sedentary lifestyle of a 40-hour worker. And for those of you who've yet to make the move from shift work to a 40-hour schedule, use this information to build a plan. Trust me, when the time comes, your body will thank you.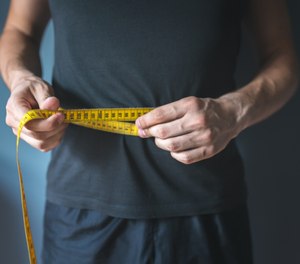 My story: Drifting from my active lifestyle
My entire life has revolved around physical fitness. Wrestling, jiu jitsu, CrossFit, powerlifting, Olympic lifting, you name it and I've done it or am still doing it. So, naturally, once I got into the fire service, I was excited to see that my fitness-oriented lifestyle would be supported. And throughout the first nine years as a firefighter, the crew to which I was assigned consistently worked out and ate together.
Fast-forward to 2017. I had been a lieutenant for a few years and found the same level of success in banding my crew together through hard work on and off the fireground, including physical fitness. Aside from taking calls, our tours revolved around the kitchen table and when and how we were going to work out. Then, in a bit of luck, a battalion chief opportunity opened, and by June, I was operating as a shift commander.
While there was a ton of upside to that role, there was also a considerable amount more of administrative work that required me to be at my desk for long periods of time, not to mention the stress that came along with these tasks (e.g., scheduling, payroll, evaluations, shift-level training plans).
This is where my fitness-oriented lifestyle started to change. In between station rounds, taking calls, running supplies and my administrative duties, there was less time to work out and less time to prepare quality food, which left me at the mercy of the crews (some of which were great cooks). Off duty, I had a 1-year-old, lived about an hour away from the firehouse, had a part-time job at another fire department, and was also in school full time pursuing my MBA, so there wasn't any more time off duty than there was on duty.
While it wasn't dramatic, the challenges associated with my administrative responsibilities and increased workload outside of fire station life started taking their toll on my body and mind. And then, two short years later in 2019, an opportunity for a deputy chief role became available, which I was fortunate enough to earn.
I started my role as deputy chief of operations and began my journey as a 40-hour employee. In so many ways, it was a dream come true for me professionally and for my family, who was excited to have me home every night and weekend. However, I had no clue how this schedule and the associated sedentary lifestyle would affect me over the coming months and years.
Only a few short weeks into the role, I quickly realized the health-centric lifestyle that I had known had changed. It was nearly impossible to find time to make it into the weight room on duty (or so it felt), and because I worked Monday–Friday, there was substantially less off-duty time to make it to the gym. Preparing food for work ahead of time was a heavy lift, and it was more difficult to cook at work since I wasn't directly in a firehouse.
The one major upside was that I had exponentially more time with my family, but I still had to fit in schoolwork and my part-time work either before heading into the firehouse or after the kids went to bed. Once I finally got to bed, it was often disrupted by off-hours calls, working fire dispatches and, of course, my kids.
Over the next few months, I settled in and started enjoying my new role, but my fitness and eating habits continued to suffer. It wasn't until the end of my first year that I could truly appreciate how much I liked my new job yet how far I had gotten off track with staying healthy. I knew something had to be done, despite this timing out with the beginning of the COVID-19 pandemic.
So, to overcome the desk bod I had begun to develop, I started by taking my health, fitness and eating back to the basics. Instead of trying to retain the lifestyle I had once had, which I knew was not my current reality, I approached working out, meal planning, office work, and my off-duty life more practically, and I eventually found a balance that provided for a healthy 40-hour workweek lifestyle.
Here's what worked for me in working through this next phase of both my career and my health journey. While none this will be shocking, nor is it guaranteed to work for everyone, it is a starting point for getting back to basics and building a healthy foundation.
Stay active: Finding time every day
Finding ways to stay active is paramount toward preventing or correcting weight gain and getting out of shape in the first place, and though it sounds easy to say (and type), that's not always the case. However, trying to stay active both on and off the clock is essential and must be approached in a sensible way.
While activity is foundational to health and wellness, it may take some extra effort and planning in the 40-hour environment. Additionally, finding the time on duty may be a stretch on many (or most) days, so the bulk of your fitness activities may have to occur off duty if your schedule is too packed. Either way, you need to make the time on a daily basis to be active beyond your typical routine.
I've found success in using the time that I'd usually be eating lunch to workout at the firehouse, and then eating afterward back in my office while I catch up on emails or update payroll. Another option is to work out before or after your 8–4 schedule. Others may find it more reasonable, and therapeutic, to work out at the gym away from the firehouse or even at their own house. Regardless of how you accomplish it, you have to make a deliberate effort each and every day to find time to be active.
As a sidenote, beyond the benefits you glean from getting and staying physically fit, it models good behavior and sends the right messages to your members that you prioritize your health.
Meal planning: Balancing crew outings and meals from home
Meal planning is essential in the fight against weight gain and depleted energy in a 40-hour workweek. Additionally, having a healthy diet, which is best achieved through consistent planning, translates into several other health-related benefits now and into the future – think medical-, stress- and sleep-related factors.
Many of us were used to eating in the firehouse, and some of us still do; however, our firehouses do not always offer the healthiest options. Furthermore, our firefighters and line personnel are also on their feet training, taking calls and doing other physical work throughout the day. So their meal choices may be better aligned with their workday, meaning if they choose an unhealthy option, they're more likely to burn those calories throughout the day versus those of us who retire back to our office chairs to continue our administrative duties. Does that mean you cannot eat out with your crews anymore? No. But what it does mean is that you'll want to meal plan as much as possible in between those outings.
Meal planning can look a lot of different ways, but I suggest keeping it as simple as possible, which will make you more likely to stick to it. Fortunately, there are countless articles about meal planning in general and even some specific to the fire service. I recommend finding a plan that works for you, your life and your budget.
I typically choose to bring my fresh food that I had portioned out the night before to the firehouse and cook it while I'm there. You can go the Tupperware route, cooking beforehand. I also suggest bringing plenty of prepackaged or bulk healthy snacks to eat throughout the day, which will help temper hunger, boost energy and prevent you from defaulting to the donuts sitting out at the firehouse.
It is also a good idea to reach out to a nutritionist if you feel like you're in over your head. They are experts in this area and can help you create a practical meal plan that meets your dietary needs and works for your lifestyle. They can be pricey, but if your budget or insurance allows for it, it could be what makes the difference in your journey.
Office ergonomics: Adjusting your work setup
Office ergonomics is an often-overlooked factor of chief officer life, but it has been a mainstay in other office environments for years. Office ergonomics focuses on modifying your office setting so you find it both more comfortable and less stressful during your shift, and to reduce strain on your body. And while not everything in the world of ergonomics translates to the right corner office or budget, implementing any aspect could mean less pain and aches and a better chance of achieving mental and physical health while working behind the desk.
Some of the areas to focus on are simple, yet effective, such as paying attention to your posture while typing and ensuring your desk height is appropriate for your sitting position. This has made a tremendous difference in my lower back pain and helps ease the soreness that comes along with other physical fitness activities. Also, ensure that you're getting up, stretching and moving around on a regular basis. I try to move 15 minutes for every 45 minutes that I'm at my desk.
Other simple tips include trying a standing desk, which comes in a variety of options from mounts that sit on your current desk to purchasing a desk that moves up and down itself. Additionally, something I've not tried yet but plan to work into my routine is using a yoga ball as a substitute for my office chair. Using a yoga ball as a chair has postural benefits and can be considered active time due to the core stabilization that's required to sit on one for long periods of time.
Overcoming "desk bod": Making the right choices
As a chief or administrative officer, there will never be a shortage of things to get done or people to assist. Your day-to-day will be jam-packed with viable excuses for missing a workout, just grabbing a quick bite while you're out in the district, or sitting behind the desk for extended periods of time because "this work HAS to get done right now."
Preventing or overcoming the "desk bod" may seem like an uphill battle, especially if you've struggled in the past to get and stay in shape. However, figuring out a practical way to get there and stay there is essential to your longevity, not only in the fire service but also into retirement. Furthermore, your effort toward being healthier provides a solid model for your department members and helps create buy-in – and just might make a difference in not only your life but others, too.
The key is being intentional in your efforts to accomplish your health goals. Don't fall for the temptations of what's simple, easy or convenient. Getting healthy will rarely be the easy choice, but it's always the right one.