PRESS RELEASE
GearGrid introduces newest hose drying product
---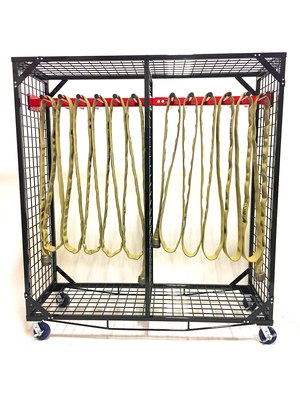 The GearCart with Hose Dryer Attachment is GearGrid's newest addition to their line of hose drying solutions. Built to stand up to the demands of firefighters, the unit makes the perfect addition to any fire station.
The innovative solution allows the hose to be looped through the attachments, which provides for a quick, convenient drying process. At 75" wide, the system allows departments to dry hose within a limited amount of space. The system is ideal for storing lengths of 50' hose and has the capacity to store multiple rolls of hose on each side.
The GearCart with Hose Dryer Attachment is a mobile system that comes standard with four heavy-duty locking casters, so the unit can be transported easily throughout fire stations.
Developed by a firefighter, for firefighters and proudly built in the USA, GearGrid has become the innovator of fire station storage solutions.
GearGrid believes you and your gear deserve to be protected and safe. As a proud American manufacturer, they ensure their storage solutions do just that.
For more information on GearGrid's newest hose drying product, visit: http://bit.ly/2PuYDZK.
About GearGrid
GearGrid is the strongest and most versatile line of storage equipment on the market. All GearGrid products are manufactured in Forest Lake, Minnesota at its headquarters and production facility. Today you will find GearGrid's full line of equipment storage and transport solutions used in stations nationwide and beyond. For more information visit http://bit.ly/2PpQQfs  or call 1-888-634-6694.

Request more info from GearGrid
Thank You!