PRESS RELEASE
GearGrid's Two-Tier Lockers offer an ideal solution when full height lockers won't fit
---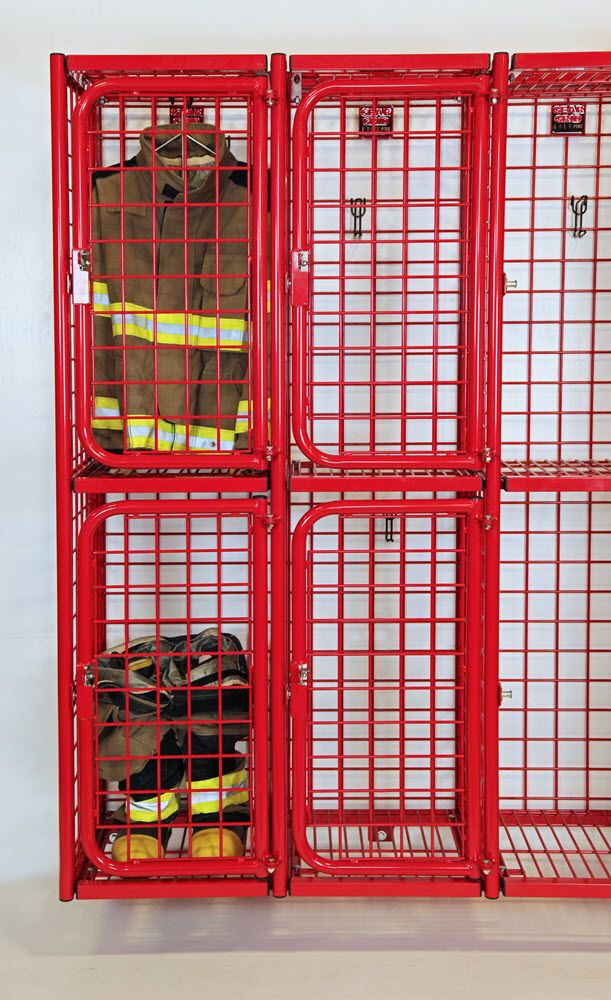 GEARGRID's Two-Tier Lockers are the perfect solution for fire departments that do not have enough space for full height, individual lockers to accommodate each firefighter. The innovative storage solution helps fire departments organize their space, while extending the life of their gear and equipment.
To stand up to the toughest daily demands, the Two-Tier Locker is designed with the same benefits and constructed of the same rugged materials as GEARGRID's other durable products. The system provides a great solution where space is limited, essentially doubling the number of available lockers when compared to traditional solutions. The additional locker openings allow each firefighter a designated space to keep turnout gear dry and organized. The 3" x 3" square grid design promotes maximum air movement, which minimizes odor build-up and allows damp gear to dry between calls.
GEARGRID offers complete customization to match design specifications, so locker systems can be built in any combination – weather it's one opening or one hundred. Two-Tier Locker openings can be 18" or 24" wide and 74.5" or 84" high. Split secure storage with the option of individual locking doors creates maximum use of space, while ensuring individual security.
GEARGRID's innovative accessories can be added to the Two-Tier Locker systems to create the ultimate storage solution. Whatever the need may be, GEARGRID offers the smarter, stronger storage solution.
About GEARGRID
GEARGRID is the strongest and most versatile line of storage equipment on the market.
All GEARGRID products are manufactured in Forest Lake, Minnesota at its headquarters and production facility. Today you will find GEARGRID's full line of equipment storage and transport solutions used in stations nationwide and beyond. For more information visit www.geargrid.com or call 1-888-634-6694.

Request more info from GearGrid
Thank You!