PRESS RELEASE
HexArmor Extrication Products: The world's safest extrication gloves
---
When you're at the scene of an accident, the last thing you want to worry about is the failure of your protective equipment. Unfortunately, traditional extrication gloves may look good, but offer little protection from the variety of dangerous hazards at an accident scene.
Things are about to change. HexArmor has been a global leader in pushing the level of safety in some of the toughest and most hazardous jobs on earth. We're excited to launch a new line of extrication protective gloves so you can worry about victims, instead of being one.
A better protector: SuperFabric™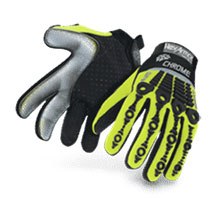 HexArmor's extrication gloves with SuperFabric™ brand material are engineered with the perfect technical and protective properties for the job at hand. SuperFabric maximizes resistance against cuts, slashes, and punctures, while providing a superior foundation for maintaining dexterity and grip. SuperFabric is so cut-resistant that it is 4-10 times more cut resistant than standard extrication gloves—even gloves made with Kevlar®.
HexArmor extrication products use a variety of advanced technologies, giving first responders and firefighters the best protection available.
SuperFabric® materials are tiny, hard guard plates that provide industry leading cut resistance (exceeds ANSI/ISEA and CE level 5), puncture protection, and abrasion resistance
IR-X™ impact guards provide twice the protection from smash and impact than standard impact gloves
TP-X™ material reinforces critical areas on the palm of HexArmor products, providing additional wear capabilities as well as cut/puncture protection
We have spent millions of dollars and many years developing solutions for the industrial market solving the toughest cut, puncture, and impact problems in some of the most hazardous jobs in the world. Now this level of protection is available for the men and women who keep our communities safe as members of fire crews, EMS, and first responders.
Visit the HexArmor Extrication Page or call 1.877.MYARMOR for more information.