PRESS RELEASE
E.J. Metals Introduces New Assault Force 70.4™ Fire-Rescue Rough Terrain Vehicles (FRRTV) with Patient Transport Capability and Four-Person Seating
---
end picture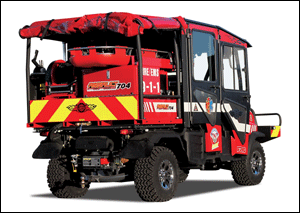 E.J. Metals has developed the next generation of FRRTV, the Assault Force 70.4, to provide fire/rescue and patient transport response in places where a traditional fire apparatus or ambulance can't go
Hortonville, WI – E.J. Metals Inc., a Wisconsin-based manufacturer of wildland fire trucks and high pressure firefighting systems, has introduced the newest, largest model in its line of high-pressure-foam-equipped Fire-Rescue Rough Terrain Vehicles. Called the Assault Force 70.4™, this innovative FRRTV provides the high pressure fighting capability of the original Assault Force 70, with safe, secure patient transport and seating for four.
"This next generation Assault Force 70.4 provides a combination of firefighting power and patient transport you simply won't find in another rough terrain vehicle. Our customers loved the original Assault Force 70, but some are looking for an even larger rough terrain vehicle, with patient transport. This model is a great choice for fire departments that need to provide fire/rescue and patient transport response in places you simply can't take a traditional fire apparatus or ambulance. It's ideally suited for brush/wildland fire response, and also perfect for fire/rescue and EMS response situations in pedestrian zones, stadiums and sports complexes, school and college campuses, large-scale events, industrial plants, and parking garages," said Kevin Quinn, E.J. Metals' president and developer of the Assault Force line.
Patient Transport Capability Anywhere You Need It
The Assault Force 70.4 provides for fast and efficient patient transport and is especially useful when a patient needs to be transported out of a remote area, over rough terrain or in any other limited access area that a full-size ambulance cannot reach. It is equipped with a rear access Stokes basket compartment which is 27" W x 10.75" H x 27" L, capable of storing a tubular frame collapsible Stokes basket, which is standard. The top of this compartment also provides a portion of the base for carrying the Stokes when transporting a patient. The design provides excellent patient access for the EMT/paramedic during transport. In addition, the optional cab enclosure and rear-area enclosure allow the Assault Force 70.4 to be heated or cooled for climate-controlled patient transport.
The Assault Force 70.4 FRRTV features a 70-gallon water tank, a 5-gallon Class A foam cell, a high pressure fire pump and the patented EJM TRIPLEX® triple-discharge, high pressure nozzle that allows firefighters to attack brush/wildland and other fires with a variety of water/foam streams. The hydraulically driven, high pressure system provides six gallons-per-minute (gpm) of water/foam discharge at 1500 psi, delivering approximately 12 minutes of discharge time. The Assault Force 70 and 70.4 models are the only FRRTVs to provide a hydraulic tool circuit and a unique intensifier that provide power for hydraulic rescue tools and other tools such as submersible pumps and chain saws. In addition, the Assault Force 70 / 70.4 are the only FRRTVs equipped with a diesel-engine-driven system.
FRRTVs from E.J. Metals are in use by fire departments throughout the U.S., and have been deployed with the U.S. Army in Afghanistan.
The Assault Force 70.4 is built on a four-wheel-drive Kubota RTV1140CPX model. A true commercial-grade RTV, the RTV11490CPX is designed specifically for heavy-duty non-recreational use. It provides the power and durability that the fire service demands, and features an integrated power train including diesel engine, hydrostatic transmission, independent suspension and four-wheel disc brakes.
The drive system includes power steering and hydrostatic all-wheel drive with built-in braking assist to slow with application of brakes, particularly valuable on downhill grades. It is powered by a 24.8-horsepower Kubota diesel engine and has a top speed of 25 mph. A front bumper guard and hydraulic bed lift are standard.
The Kubota RTV1140CPX is equipped with a rollover-protection system (ROPS) that is both SAE-specification and OSHA-compliant. Like the smaller Assault Force 70, the Assault Force 70.4 has been tilt-table tested to verify its stability and offers a 24-degree side-slope capability.
About Kubota Tractor Corporation
The Kubota RTV1140CPX's manufacturer, Kubota Tractor Corporation of Torrance, Calif., is the U.S. marketer and distributor of Kubota-branded equipment, including a complete line of tractors up to 118 PTO hp, performance-matched implements, compact and utility-class construction equipment, consumer lawn and garden equipment, commercial turf products and utility vehicles. More RTV900 information can be viewed at www.kubota.com.
About E.J. Metals Inc.
E.J. Metals Inc. is a designer and custom manufacturer of wildland, all-terrain and specialty fire trucks and High Pressure Firefighting Systems. Their product line includes wildland fire trucks, brush trucks, quick attack trucks, rescues, fire-rescue rough terrain vehicles (FRRTVs), RIVs, compressed air foam systems (CAFS), and stand-alone High Pressure Firefighting skid units from 1500 PSI to 3000 PSI. EJ Metals also provides refurbishment services and builds custom dump chutes for fire tankers. The company is headquartered in Hortonville, Wis. For more information, visit www.ejmetals.com or contact Kevin Quinn at 920.779.9913.