PRESS RELEASE
KME Announces Chinese Joint Venture
---
Nesquehoning, PA –Kovatch Mobile Equipment Corp. (KME) announced that it has entered into a Joint Venture in Dalian, China. The Joint Venture Company (JV) completed the formal introduction of the KME brand to the Chinese market last week at the opening of China Fire Expo 2013.
KME will supply the JV with both complete vehicles and partially-assembled kits, all of which will be built in our Nesquehoning facility. The JV is finalizing construction of the assembly facility in the new Dalian Economic Development Production Base located in the northeastern province of Liaoning, where the JV will finalize the assembly of KME fire apparatus and specialty vehicles designed specifically for the Chinese market.

KME has received an initial order of 80 completed pumpers and tankers to be built at its Pennsylvania headquarters for the Chinese fire market.
The Joint Venture includes KME, First Priority Emergency Vehicles (Manchester, NJ) and Brilliance (Huachen) Auto Group, one of China's most-respected automotive brands. Brilliance manufactures in excess of 600,000 vehicles per year, distributed across China through 3,500 sales and service locations, and is widely known for its highly successful BMW Joint Venture. First Priority is one of America's leading exporters of emergency vehicles, having most recently been recognized by the US Department of Commerce with the prestigious President's E Award for excellence in promoting US exports.

"Last week's product launching is confirmation of our investment in the future, and a significant opportunity for our company and its employees. This facility will be the first ever China-based manufacturing facility for the Kovatch Organization," said John J. Kovatch, III, President and Chief Executive Officer.
The JV will initially market apparatus manufactured at KME's headquarters in the United States; and ultimately, those assembled at its Dalian facility. "This combination of local assembly and US-manufactured product will give KME a distinct strategic advantage in the competitive Chinese landscape. KME product assembled at the Dalian facility will be strictly targeted for the China and Asian markets and complement KME's North American manufacturing facilities, which build products for the rest of the world." Kovatch said.

The announcement is a critical step in KME's strategic business objective to expand to meet the demands of a global economy and a strong commitment to the China marketplace. Kovatch commented, "For a market of this magnitude, and with Brilliance's commitment to the Joint Venture, we believe the combination of a premier product imported from the US, coupled with the joint-venture manufacturing capability, is the best way to bring KME's premier products to market in this time of great emphasis on public safety initiatives in China".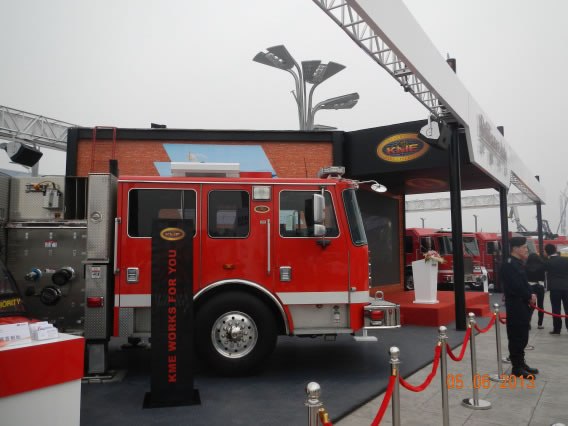 "KME is committed to remaining an independent, closely-held business; however, strategic joint ventures allow KME to successfully expand into global markets." said Richard Reaman, Vice President and Chief Financial Officer. "The joint venture structure allows KME to align with key strategic partners who understand the local market needs, and leverage KME's design and technology into those new markets."
The JV operations will be based in a new state-of-the art 325,000 square foot manufacturing facility in Dalian dedicated to the fire apparatus JV. When complete, Brilliance Specialty Vehicle's Dalian manufacturing hub will include more than 20 joint venture projects, annually manufacturing in excess of 100,000 specialty vehicles of a wide variety of styles and applications.
In closing, Reaman commented "This model Sino-American joint venture serves a unique role: placing cutting-edge fire apparatus in the hands of China's proud firefighters, while supporting our economy in America with new jobs created in Pennsylvania and New Jersey. We are honored Brilliance has chosen to partner with us and First Priority in this landmark endeavor."
KME has supplied products and service support all over the world since 1977. Moving forward, KME looks to expand with additional capabilities focused on the sale, service and support of KME's products in these new overseas markets.
KME is a leading custom manufacturer of a full range of specialty vehicles for military, industrial, commercial, aviation and municipal markets. Additional information on KME can be found at www.kovatch.com or by emailing to kme@kovatch.com. For more information on this press release, contact Phil Gerace, KME Director of Sales and Marketing, pgerace@kovatch.com or 570-669-5141.