PRESS RELEASE
KME Introduces All New 102' AerialCat Platform
---
Nesquehoning, PA – KME is proud to introduce the new all new 102' AerialCatTM Platform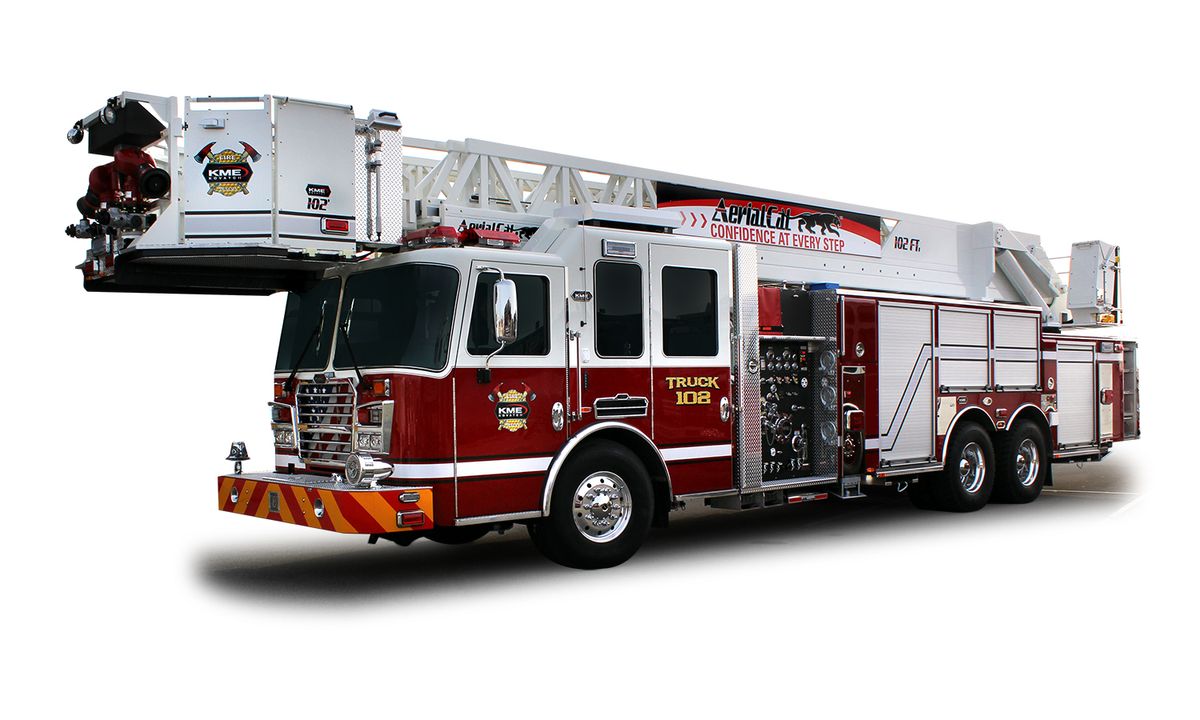 The all new KME 102' AerialCatTM Platform brings safety and ease of operation to every response. The 102' platform offers the shortest wheelbase and overall lengths and lowest travel heights in the industry. Recognized as the strongest ladders available, KME ladders also take smooth operation to a whole new level with motion controls that provide safer and easier controls than any truck over built for the fire service.
The platform itself has been redesigned to offer 22.6 square feet of clear work space, which is the roomiest in the industry. The new platform also offers 6.7 square feet of external working space. The parapet ladder access is provide at both sides of the platform, and offers a movable platform control station which allows for control of the device from the left, right and center of the platform for the easiest operation. The new platform is of modular construction that provides for easy repair in the event of an accident, preventing the need to replace the entire platform.  Another new feature is a continuous ground pad that prevents "hang ups" on building structures, designed to prevent the platform from getting caught up on obstructions during operation. Only the KME AerialCatTM platform can offer an unrestricted 3,000gpm waterflow option, achieved with a complete 6" waterway and the strongest 100,000psi steel ladder in the industry.
Only the KME 102' AerialCat platform offers a 94' horizontal reach, a 2.5:1 structural safety ratio, and a -12 degree below grade operation.

KME is a leading custom manufacturer of a full range of specialty vehicles for military, industrial, commercial, aviation and municipal markets. Additional information on KME can be found at www.kovatch.com or by emailing to kme@kovatch.com. For more information on this press release, contact Phil Gerace, KME Director of Sales and Marketing, pgerace@kovatch.com or 570-669-5141.