PRESS RELEASE
KME Introduces the Whipline Quick Reaction Bumper Turret
---
Nesquehoning, PA – KME is proud to introduce the new WhiplineTM Quick Reaction Bumper Turret.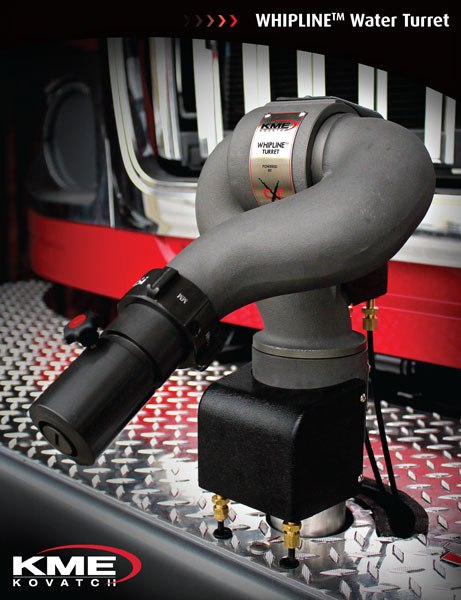 Partnering with Elkhart Brass, KME designed this turret to mimic the speed and accuracy of a firefighter operating a handline at a brush fire. Designed specifically for wildland engines (though useful in many applications), this turret can flow up to 120gpm with true in-cab control. The turret features all Elk-O-Lite® aluminum construction in a compact package. The flow and direction are completely controlled at the in-cab joystick which features automatic position indication feedback so aiming the turret is a breeze, even when you can't see it. The turret features a full range of 180° side-to-side, and -30° to +60° vertical travel. The turret moves as quickly as the operator's hand, allowing the operator to rapidly sweep back-and-forth across the fire for quick knockdown using minimal water. The stream pattern is adjustable at the nozzle for maximum firefighting effectiveness. The flow rate can be preset from 30gpm to 120gpm at the factory.
This turret can provide the same effectiveness as a handline without exposing operators to hazards outside or on top of the vehicle, and it costs less than a traditional turret. This product is available exclusively from KME Fire Apparatus.
The WhiplineTM Quick Reaction Bumper Turret was unveiled at FDIC 2013. Contact your local KME sales representative for more information.
KME is a leading custom manufacturer of a full range of specialty vehicles for military, industrial, commercial, aviation and municipal markets. Additional information on KME can be found at www.kovatch.com or by emailing to kme@kovatch.com. For more information on this press release, contact Phil Gerace, KME Director of Sales and Marketing, pgerace@kovatch.com or 570-669-5174.