Why you should approach every call as a hazmat incident
Smoke, soot and particles from burning materials, especially plastics, are all toxic and hazardous to firefighters' health
---
Sponsored by Decon7 Systems
By Jim Spell for FireRescue1 BrandFocus
All smoke contains carbon monoxide, carbon dioxide and particulate matter or soot, all of which are hazardous to firefighters' health. The fireground today is a highly toxic environment requiring full PPE, including SCBAs during attack and extinguishment, and especially during salvage and overhaul.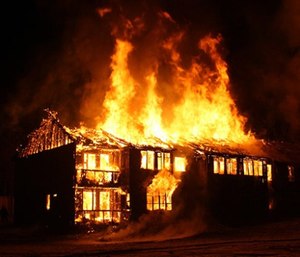 In the 1900s, houses and their furnishings were made of wood, glass and metal. While still dangerous to firefighters, the burn rates of these materials were slower and temperatures stayed lower than modern materials, and there were very few studies focusing on the environmental hazards of putting out fires. Building codes referred to fire gases as "no more toxic than wood."
Health Hazards on Every Fireground
Today's building materials, such as plastics, foam and flame retardants, are far more complex and potentially toxic. Smoke can now contain many different toxic chemicals, including aldehydes, acid gases, sulfur dioxide, nitrogen oxides, polycyclic aromatic hydrocarbons (aka PAHs), benzene, toluene, styrene, metals and dioxins.
From an occupational health standpoint, this makes every fire a hazmat incident. NIOSH considers the interior of a burning building to be immediately dangerous to life and health. Despite having better equipment to protect firefighters and numerous studies analyzing the hazardous environments inherent in every fire, firefighter deaths attributed to cancer have risen 250 percent in the last 20 years.
Toxic Gases and Particles
Smoke, soot and particles from burning materials, especially plastics, are all toxic. The type and amount of particles and chemicals in smoke varies depending on what is burning, how much oxygen is available and the burn temperature.
Many of these toxicants are produced prior to actual flame impingement on the material and linger long after extinguishment. Hazardous gases are retained in all porous building materials after a fire, and hydrogen chloride releases from concrete can be detected up to one hour after a fire has been extinguished.
Polychlorinated biphenyls, commonly referred to as PCBs, are present around most electrical equipment and break down to form soot when exposed to heat and flame. Epoxy resins, used in building and furniture assembly, release chlorine, ethyl bromide and ketones when exposed to temperatures as low as 360 degrees, an ordinary cooking temperature.
Silicone rubber used for insulation breaks down to release hydrogen cyanide, benzene and carbon dioxide, as well as amorphous silica. All are converted to crystalline forms when inhaled. Direct contact or inhalation of many of these chemicals affects muscular coordination via the central nervous system.
Phosgene, used to make plastics and pesticides, has a pleasant "fresh-cut grass" odor at low concentrations, but it dissolves in the moisture of the lungs to form hydrochloric acid. At low levels, phosgene can cause itchy eyes and a sore throat. At higher levels, it can cause pulmonary edema and death.
Concentrated forms of hydrogen- and chlorine-based chemicals can produce hemorrhagic pulmonary edema. Isocyanates or "super glue" block the upper respiratory tract. Carbon monoxide is directly linked to cardiac toxicity.
Many of the effects of these chemicals can be delayed, resulting in a medical emergency not directly associated with the initial response. Take care to reduce your exposure on the fireground, mitigate risk and decontaminate your PPE, yourself and the scene.
Increased Protection, Decontamination Available for Firefighters
In a conscientious effort to connect mounting scientific data with better results in the field, three areas of on-scene firefighter protection have increased over the past few years. These are:
The introduction of gas detectors.
Systematic decontamination of firefighters and their PPE at the fire scene.
The cleaning of bunker gear in specifically designed commercial washing machines with targeted solutions.
Four-gas detectors, dependable and straightforward to operate, identify the indicators of toxic residue during salvage and overhaul operations and serve to directly reinforce fire department procedures regarding personal protection during the tasks associated with locating hot spots and general cleanup.
On-scene decontamination techniques using solutions designed specifically for neutralizing and eliminating gross toxins – not just removing them to another medium – can safeguard firefighters after the work is done. These on-scene efforts minimize secondary exposure risks from off-gassing as well as direct contact back at the firehouse.
Spray-on solutions can be used immediately on bunker gear, and exposed skin should be cleaned after PPE removal.  Soap and water will help remove toxins from PPE, but it will not neutralize them or eliminate the threat – the wash water will still contain the hazardous chemicals. Look for a decontamination product that has been tested to meet NFPA standards to fully neutralize the threat.
Back at the station, washing bunker gear in house or by commercial laundry after a fire has been proved to reduce the risk of dermal exposure from contaminants absorbed in the gear during fire suppression activities. Thorough preventative measures include removing the gear on the fireground and not wearing or storing soiled gear in the apparatus immediately after toxic exposure, as well as not taking gear home to be washed or keeping it in personal vehicles.
Take Steps to Reduce Your Risk
Without proper protection during and after a fire, firefighters are directly exposed to acute and chronic health effects from the ever-present contaminants released on every fireground. High temperatures, toxic gases from decomposing synthetic materials and the products of incomplete combustion contribute to the poisonous threat associated with fire suppression and its aftermath.
Toxins and the off-gassing of harmful chemicals require preventive measures such as gas analysis, full PPE and complete decontamination procedures for all fire-related incidents. Bolstered by science and supported by fire departments throughout the country, acknowledging every fireground as a hazardous materials incident will go a long way in prolonging careers and ensuring a healthy retirement for firefighters.
About the Author
Jim Spell spent 33 years as a professional firefighter with Vail (Colorado) Fire & Emergency Services, the last 20 years as a captain. He helped create the first student/resident fire science program west of the Continental Divide, formed the first countywide hazmat response unit and was on the original Colorado Governor's Safety Committee. As founder of HAZPRO Consulting LLC, Jim advises business on subjects ranging from hazard analysis and safety response to personnel development and organization. Jim's writing has won six IAFF media awards. He has an associate's degree in fire science and a bachelor's degree in communications. He can be reached at jim.spell@firerescue1.com.

Request information from Decon7 Systems
Thank You!