Packexe SMASH Receives a Red Hot Welcome in Germany
---
Packexe SMASH is a time critical glass management product used within the fire & rescue industry for extrication at road traffic collisions. It supports the quick and easy rescue of the passengers as the film reduces the risk of the glass breaking, also allowing fire fighters to remove the glass quickly and in one piece.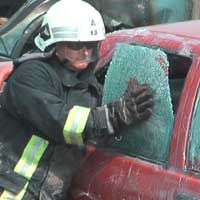 Packexe SMASH is going from strength to strength and the most recent show, Interschutz 2010 turned out to be an extremely successful exhibition for them. The fire and rescue exhibition takes place every five years in Germany and this year it had 1350 exhibitors from 46 countries. The show experienced a heat wave with temperatures in Leipzig reaching 34°C in the shade! However, visitors still ventured to the stands and visitor statistics were predicted to total a dramatic 125,000.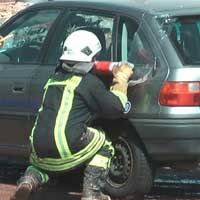 Packexe SMASH kick started the show with daily live demonstrations in the outside showground. Fire Fighters from Leipzig used Packexe SMASH during a full extrication exercise, showing Packexe SMASH's performance under several different scenarios including wet conditions. The demonstrators showed how glass can be left in place during extrication or broken and removed in one piece with the application of Packexe SMASH.

Packexe were pleased to welcome friends from extrication challenges across the world onto the stand alongside new enquiries from throughout Europe,  North America, South America, Australasia, Africa the Far East and Asia. Interest in the Packexe SMASH stand not only came from fire fighters and distributors from a across the globe but also television crews interested in the latest innovation. The interview between Retter television and Andrew Orchard, CEO of Packexe, can be seen at www.interschutz.retter.tv.
(http://interschutz.retter.tv/de/interschutz-beitrag.html?ereig=-Extrication-Solutions-Save-Time-Lives-with-Packexe-SMASH%C2%AE-&ereignis=3231)
CEO Andrew Orchard said "The reception in Germany was fantastic, and as we expected the product was very well received. The show is only every five years and the visitors expect to see new innovative products that will enable them to improve the extrication process. At Packexe SMASH we pride ourselves on innovation and producing products that will enable the highest standard of protection with an undisputed and unmatched ease of use and we certainly gave them an innovation that opened their eyes to new forms of glass management. The show proved to be a great success for Packexe SMASH and we have generated a lot of awareness both with potential distributors and end users".

Packexe worked with UK Fire Stations for two and half years testing and developing products that will enable them to improve and speed up extrication at road side collisions.  Packexe SMASH has since been launched globally through the UK Fire & Rescue Show, FDiC and Interschutz 2010. The company have also sponsored many international Fire & Rescue Challenges to generate awareness of the product and to give the fire fighters the opportunity to have hands on experience with the product in real life scenarios.
For further information you can visit the website and blog at www.packexesmash.com.

For further press information or high resolution images contact Kate Harvey, Marketing on 01392 438191, email kate@packexesmash.com.