PRESS RELEASE
Strasburg Fire Protection District #8 (CO) Reports Benefits of 24/7 Crew Schedule Access
---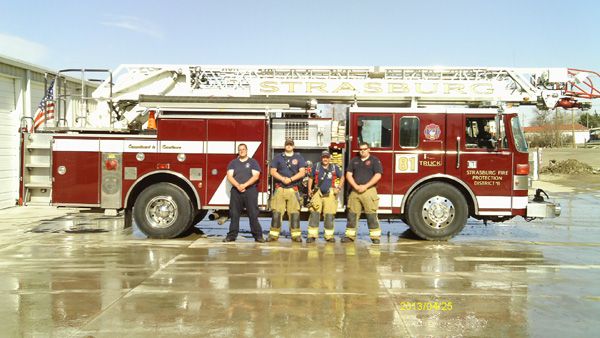 Administrators use Aladtec's FIRE Manager mobile web app nearly 100% of the time to schedule and manage their department.
Strasburg, CO - Until relatively recently many fire departments didn't have internet access, now not only are they online but many are scheduling personnel, approving trades, and tracking certifications from their smart phones and other mobile devices.
"FIRE Manager is easy to access for myself and our department personnel from any location - either by computer or smartphone. In the past this was not the case. The mobile web app is how the Chief and I keep on top of sign up and time off requests almost 100% of the time. Our career paid staff and volunteer reserves use the app almost exclusively as well. We all love the constant mobile access of FIRE Manager," indicates Lt. Jim "Pops" Reed, District Fire Marshal and Firefighter/Paramedic, Strasburg Fire Protection Dist. #8, Strasburg, Colorado.
This agency, made up of volunteer reserve and paid career members, wanted a new method to manage scheduling and personnel that was flexible, efficient and affordable. Reed was mandated to explore options and he states, in his opinion, nothing compares to Aladtec's FIRE Manager. "I like the ability to schedule time slots that are not restrictive on hour blocks. We are a combination department and our reserve, or volunteers, can not dedicate only 12 or 24 hour time blocks," Reed explains. "Our District Board, and myself, find Aladtec's annual subscription is ideal due to our budgeting and expense analysis each year. We believe FIRE Manager is priced very fairly."
In addition, Reed appreciates the ability to set time limits on shifts so individual firefighters and EMTs don't work more than their allotted shift. He also finds Aladtec's free tech support very valuable.
"If I have any questions, tech support answers them expediently and in a friendly manner. I am very happy with my decision to have guided our District Board to approve subscribing to FIRE Manager. It's a pleasure to be associated with such a professional and concerned vendor," concludes Reed.
The Strasburg Volunteer Fire Department was established in 1927 and has grown to what is now called Strasburg Fire Protection District #8. Covering 268 square miles with a population of approximately 3,700 people their responsibilities are focused on fire, medical, rescue and hazmat services. They also assist covering mutual aid departments along Colorado's I-70 Corridor.

About Aladtec, Inc.
Aladtec, Inc. is a proud provider of web-based software solutions for online employee scheduling and workforce management applications. The company's flagship products, EMS Manager and FIRE Manager, are leaders in the public safety sector. Together with their newest product, Zanager, they serve over 900 EMS agencies, fire departments, police departments and other businesses. Over 57,000 employees use Aladtec's online employee scheduling and workforce management products. Aladtec is headquartered just outside the Minneapolis/St. Paul metro area in Hudson, Wisconsin. For more information, visit www.aladtec.com.