PRESS RELEASE
Hale Names September 2010 Safe Firefighter of the Month Winner
---
CONSHOHOCKEN, Pa. — The most recent recipient of Hale's Safe Firefighter of the Month Award is Capt. Ken Flaherty of Milford, N.H. "I had no idea. What an honor to even be nominated!" Capt. Flaherty said of his much-deserved recognition. "It's a great feeling to know that the guys I work with every day think I'm doing a good job."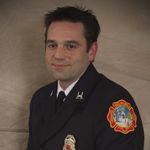 Capt. Flaherty has done more than his share, serving as a career firefighter for 20 years with the Milford Fire Department. According to his co-workers, Capt. Flaherty has been instrumental in safety and equipment training for all 46 members of his department. He stays up to date on his own training by attending fire safety courses at the National Fire Academy.
Capt. Flaherty has taken the initiative to bring safety training to other areas of the community as well. Along with fellow members of the department, he has instated lock-down drills for many neighboring schools in the area. The program was the result of the recent rise in school shootings across the country. He also leads five fire drills each month, one at each of the elderly care facilities located in Milford.
"One really easy way to increase firefighter safety is to make sure everyone wears their seat belts," explained Capt. Flaherty. "We participate in a driver safety program called Skid School and have taken a seat belt pledge as a department. Firefighters should always be prepared, remember their training and buckle up."
To nominate someone for Hale's Safe Firefighter of the Month Award, visit www.safe-firefighter.com. Each month, a top candidate will be chosen from the submissions made by firehouses across the United States, and the winners and nominees will have their photos and profiles displayed on the website.
About Hale
Hale, based in Conshohocken, Pa., is a fire and rescue equipment company founded in 1914 by three Pennsylvania firefighters who believed they could build a better fire pump. Today, the company has grown through new product innovation and strategic acquisitions to supply pump modules, compressed air foam systems, electronic controls and valves. For more information, visit www.haleproducts.com.