Newly improved app gives responders more complete dispatch information for faster, better prepared response
Since 2004, eDispatches has focused their efforts on delivering dispatch notifications to responders by voice call, text and the eDispatches mobile app
---
Sponsored by eDispatches
By Sarah Calams for FireRescue1 BrandFocus
In today's tech savvy world, almost everyone has a smartphone in their back pocket. With a simple swipe of your finger, you can call or text anyone with ease.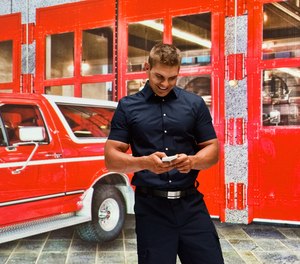 Don't have time to watch the news on TV? Alerts or push notifications from a news outlet or organization can be sent directly to your phone. Experiencing COVID-19-related symptoms and unable to see a physician in person? A video telehealth call can put your worries and mind at ease.
And, for first responders, a smartphone can even be used to receive dispatch alerts, giving crews the necessary and lifesaving information needed for a faster, better prepared response.
There's an app for that
While on duty, first responders are ready to respond at a moment's notice. But, what if you are not in the firehouse when a call comes in?
For instance, take a small-town volunteer fire department. Most volunteers have day jobs outside of the firehouse. They often rely on alternate forms of communication regarding incoming calls. In this example, the department needs all-hands-on-deck for a multiple vehicle accident on the highway.
Instead of reaching out to each firefighter individually, the department relies on their eDispatches mobile app to automatically alert crews with the necessary dispatch notifications.
Much like a breaking news alert, first responders receive audio and computer-aided dispatch (CAD) alerts directly on their smartphone as soon as an incident occurs. This automated system allows crews to focus on the task at hand: responding to and safely serving the citizens within their community.
On the eDispatches mobile app, which is available via Google Play and the Apple Store, crews can receive a voice call and listen to the dispatched emergency, as well as a text message or alert on the app indicating a tone activation with the CAD information. This alert allows crews to respond no matter where they are located when the call comes in.
Because seconds always count, the app's mapping and routing feature gets crews to the scene safely and efficiently. And, the app's visual response feature allows fire department members to be able to see who is responding enroute in real time. This feature gives those already on scene a better idea of who is available and responding.
Additionally, the app's slide-out availability and alert personalization menu, which lets responders set up the types of alerts they receive based on their availability, gives department members the ability to forecast who is available and ready to respond when a call comes in.
The newly improved app also includes:
Updated audio/CAD dispatch notification screens, specifically designed for efficiency.
Alert history with on-demand audio playback for up to 90 days, which you can rely on, if needed, for reports or follow-up situations.
Enhanced CAD relay, which provides members with information like an address, call number or type of emergency via a text or app alert notification, ensuring crews are always situationally aware.
Other features include priority text messaging, free streaming audio, email logs of recent calls, daily digest emails of all calls and the ability to receive alerts from multiple departments.
Never miss a call
Closing the gap between dispatch and emergency response is vital.
However, countless fire departments across the country are also operating on low, ever-shrinking budgets. This can hinder a department's ability to not only fully staff their firehouses appropriately, but also increases the likelihood of not being able to equip each fire department member with the necessary firefighting equipment and gear.
With eDispatches, alerts are delivered directly to a department members' smartphone, eliminating the need to buy another piece of equipment. The app, which operates like a voice pager anywhere there's cellular or internet service, can take the place of a traditional piece of communication equipment, such as a pager.  eDispatches has the ability to function on all types of devices including flip phones and landlines.
Furthermore, fire departments do not have to factor in equipment costs or rental fees into their budgets. Once a department configures their free eDispatches receiver, which monitors each department's unique dispatch radio frequency and tones, members will begin receiving their automated alerts – no strings attached.
And, unlike a traditional pager, eDispatches' in-app and web-based live-streaming capabilities give members the opportunity to listen to live radio traffic on their smartphone or computer anywhere in the world. This offers members the ultimate opportunity to never miss a call and know what is happening within their community at any given time.
With eDispatches, crews can count on receiving more complete and thorough dispatch information, setting them up for a faster, better and well-informed response – no matter where they are or what type of call comes in.
To start a free trial visit eDispatches. Learn about the new features here.
Read next: No excuses: Why missing an emergency dispatch notice is entirely preventable

Request information from eDispatches
Thank You!