///Emergency Equipment and KY Dept. of Agriculture at AG CONNECT 2011 EXPO
---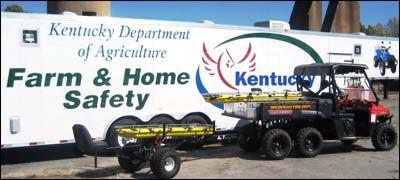 Visit the Kentucky Department of Agriculture 'Farm & Home Safety Program' display at:

AG CONNECT 2011 EXPO in Atlanta, GA, January 7, 8, 9 &10, 2011 at the Georgia World Congress Center. Booth #2851 in the "SAFETY ZONE"

This display will incorporate ATV Safety and Rescue vehicles provided by: ///EMERGENCY EQUIPMENT, JOHN DEERE & CO., and KIMTEK Corp.

See ///EMERGENCY EQUIPMENT in Atlanta or visit us online at: www.OffRoadRescue.com.

About ///Emergency Equipment
///EMERGENCY EQUIPMENT is a veteran owned and operated small business primarily serving the public industrial and military, emergency services sector. We are your online source for off-road emergency response vehicles, trailers and patient handling equipment. As the population's interest in outdoor recreational activities grows, our experienced and knowledgeable sales associates and suppliers take pride in offering the safest, most cost efficient methods of off-road patient handling, firefighting and rescue equipment transportation available.


Request more info from Emergency Equipment
Thank You!