PRESS RELEASE
Ladder Light introduces smarter end caps to enable safer firefighters
---
High intensity LED beacons turn on automatically to show ladder location in dark or smoky conditions
AUSTIN —  Ladder Light, a company committed to improving safety for firefighters and victims, today announced LadderLight, the industry's first lighted end-caps for ground ladders. LadderLight installs easily on industry standard ladders, replacing the existing ladder end caps. When the ladder is placed, LadderLight automatically activates to illuminate the departure zone and acts as a beacon for firefighters – eliminating the need for additional steps to light the exit path.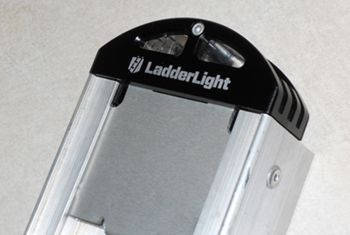 LadderLight was conceived by a firefighter who realizes how important precious seconds can be in the line of duty. "While performing a nighttime ladder operation, an evacuation call was given. Amidst the smoke and chaos, I was unable to discern the location of my ground ladder," explained Ryan Stout, a former firefighter in El Paso and Austin, Texas. "After a frantic scan of the roofline, it was too late. The structure below my feet had given way. After a year of surgery and intense rehab, I was no longer fit for duty."
A survey of over 200 participants from a firefighters' union in a major US metropolitan area showed that at least two-thirds of firefighters have had trouble finding a ladder, or have mounted a flashlight to their ladder to make it easier to find. Moreover, when provided with a description of the product, 90% believe that Ladder Light will improve safety.
When LadderLight is installed, an internal gyroscope detects ladder angle to turn lights on and off automatically. An array of strobing green LEDs is positioned for visibility on the roof, and high-intensity white LED lights angle downward to illuminate obstacles. Made of die-cast aluminum, LadderLight installs in minutes with no additional parts or protrusions. It operates on a standard 9-volt battery, capable of powering its lights at full capacity during a 12-hour shift. It is American made and tested to the highest durability standards.
LadderLight has been field tested in Travis County, Texas. Chief Ken Bailey of Travis County Fire Rescue – ESD #11 reported that "the light is not so bright or blinding that is distracts from getting back to the ladder. When you are on the roof, it clearly marks where your ladder is. We are confident this product will improve safety for our Department."
LadderLight is available for order now at www.ladderlight.com, and is priced at $490 per ladder (one pair of lights).
About Ladder Light
Ladder Light (www.ladderlight.com) brings firefighting experience together with quality craftsmanship, American manufacturing, and good business. We understand the rigorous work it takes to turn a good idea into a product, and we're honored to bring that product into fire stations across the country. We're thorough in our testing and unwavering in our dedication to the brave men and women who risk their lives for ours. Ladder Light is a proud member of NFPA, FAMA, FEMSA and FDSOA.