12 hospitalized after storms wreck Dallas Cowboys facility
---
By Chuck Carlton, Todd Archer and Tanya Eiserer
The Dallas Morning News
IRVING, Texas — Twelve people were hospitalized after thunderstorm-spawned winds demolished the Dallas Cowboys' indoor practice facility during a rookie minicamp Saturday afternoon.
"You could see the whole roof roll up like a candy wrapper," said Larry Rodriguez, a cameraman for KDFW-TV (Channel 4), who was filming when the structure collapsed with about 70 players, coaches, team support personnel and members of the media inside.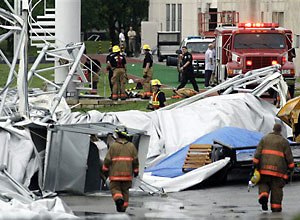 At least two of those hospitalized were in serious condition, said Dr. Paul Pepe, chairman of the emergency department at Parkland Memorial Hospital. None of the injuries appeared to be life-threatening, he said.
Cowboys special teams coach Joe DeCamillis suffered broken vertebrae in his back, according to his father-in-law, one-time NFL coach Dan Reeves.
Reached by phone Saturday night, Reeves said DeCamillis was undergoing an MRI and a CT scan, along with further tests.
"It's just lucky and fortunate and a miracle really he's not paralyzed," Reeves said.
No players were seriously injured in the collapse, which happened about 3:30 p.m., but three other Cowboys personnel were hurt: assistant athletic trainer Greg Gaither, who suffered a broken leg; college scouting coordinator Chris Hall, whose arm was injured; and scouting assistant Rich Behm, who was in critical condition with unspecified injuries. All remained hospitalized Saturday night.
Cowboys coach Wade Phillips said he saw DeCamillis before he was taken to an area hospital.
"He was moving his hands, and he was talking," Phillips said.
Rodriguez, who suffered a gash on his left hand that required six stitches, remembered hearing cries from people under the tent-like roof of the structure.
Players, coaches and others scrambled to help those trapped.
"There were a lot of heroes out there in my mind, because all of those guys jumped right in there looking for people and trying to help people around them," Cowboys secondary coach Dave Campo said.
"The players did a great job. They didn't even hesitate. They went trying to find as many people as fast as we could."
Pepe said 10 people were taken to the hospital. At least two checked themselves in. The Cowboys and hospital officials were not making the names of the injured available Saturday night.
"This worked out very, very well from a medical point of view," Pepe said. "Right now, I think we don't have anybody who is in a life-threatening situation."
Team owner Jerry Jones cut short his visit to the Kentucky Derby in Louisville, Ky., and returned to Dallas on Saturday night.
"They did not get good warning there, and the structure did collapse," Jones said in an interview with NBC's Bob Costas shortly after the news broke.
Phillips said a couple of players suffered minor injuries.
Kicker David Buehler suffered a minor concussion, gashes in his forehead and right knee in addition to having skin ripped off his ear.
He had exited the facility through a side door when he was hit by a pole. He crawled to safety and then looked back.
"My initial thought was, 'How many people are dead in this?' I thought I was just a lucky one. I was just in shock," Buehler said.
Hall had his arm pinned in the wreckage.
A 33-year-old man was impaled by an object and was taken to Parkland Memorial Hospital in Dallas, Irving City Manager Tommy Gonzalez said. Two other people were taken to Parkland, one with a head injury and another who suffered neck and back injuries. Another person was at Baylor Medical Center in Dallas with an open leg fracture.
Five of the injured were taken to Las Colinas Medical Center, and two more walked in later.
"I think the worst we had was a dislocated shoulder," said Owen DeWitt, director of marketing and information officer.
DeWitt said all were expected to be released soon.
It could have been potentially far worse, had the Cowboys been holding a full camp practice with more than 80 players in the building, instead of the 27 on hand Saturday.
"I think we're very fortunate," Campo said.
The Cowboys canceled today's minicamp practice and will have a meeting for the players instead.
The storm also created other hazards, knocking out power at team headquarters and splintering trees across the property.
"We're lucky no one got electrocuted with all the water in the building," Phillips said.
But it appeared that the damage was isolated, said Irving police spokesman Officer David Tull.
"There's no structure damage anywhere but right here," Tull said.
Wreckage from the 85-foot-tall white structure, built in 2003, was strewn across the ground, along with TV and football equipment. The giant blue star atop the building lay crumpled on the ground.
The collapse came on the second day of practice for the 12 players selected by the Cowboys in this year's NFL draft. They were joined by undrafted free agents and several practice squad players from last season, all with dreams of a career in pro football.
Under threatening skies, the practice was moved indoors in the facility adjacent to the practice field.
Despite heavy rain, the practice continued as normal. Late in the practice, the storm outside intensified noticeably.
The building shuddered, and the overhead lights swayed, flickering on and off, as practice came to a halt. Then the collapse began as everybody crowded toward the exit.
"It was like somebody stuck a pin in a balloon," said Arnold Payne, a cameraman for WFAA-TV (Channel 8). "It collapsed on all sides.
"It just imploded."
The National Weather Service reported winds of more than 60 mph in the area, and a severe thunderstorm warning was issued about 3 p.m. But there was no sign of a tornado.
Meteorologist Jesse Moore of the National Weather Service in Fort Worth said the winds created a microburst. Such bursts, in which heavy wind and rain shoot straight down, can be mistaken for tornados, he said.
Paul Riggs, another TV cameraman inside the facility at the time, said he looked up and saw the roof falling.
"I sprinted harder than I have in decades," he said.
Riggs said he got under a raised platform with several offensive linemen from the team.
"It fell around us," he said. "Then it was pure chaos."
Nick Eatman, a staff writer for DallasCowboys.com, was one of the first people out of the structure.
He paused for a moment, struggling with the door and wondering if it was better to exit into the storm. Then somebody yelled, "Go. Go."
Said Eatman: "Before I knew it, we were all outside."
Jason Odette, a student who lives near the facility, was outside as the storm passed through and watched in shock as the roof caved in.
"I did see the roof coming apart off the top of the building and just heard metal twisting and popping," he said. "It had that spring-popping noise."
Gonzalez said officials are trying to determine what caused the collapse.
"The rain came down very abruptly and sat on the top, and that might have been what caused it," Gonzalez said.
As debris fell around him, Payne said he made a break for daylight, all the time mindful of his camera, which was still rolling.
"It happened so fast," he said. "I was just trying to get out there at the same time rolling tape."
Payne said people were ripping through the tarpaulin to get to those trapped underneath
"Everybody was helping everybody," the cameraman said. "Everybody that could walk turned around to see how they could help.
"Everybody went into rescue mode."
Copyright 2009 THE DALLAS MORNING NEWS

Request product info from top Rescue Stretchers companies
Thank You!