41 injured in NC Slim Jim plant explosion, collapse
---
By Alysia Patterson
The Associated Press
GARNER, N.C. — A blast at a Slim Jim meat products plant Tuesday blew workers off their feet, ripped the building's roof off its supports and critically burned four people.
Two workers were still unaccounted for Tuesday evening. Authorities said they located one person in the building who had been missing, but they did not say whether that person was alive.
More than 40 others were taken to hospitals, including three firefighters who needed medical attention after inhaling ammonia gases that left a distinct scent around the sprawling ConAgra Foods Inc. plant just south of Raleigh. The explosion left gaping holes in the roof. An exterior wall collapsed, smashing cars parked next to the 500,000-square-foot building.
Wake County Emergency Medical Services district chief Jeffrey Hammerstein said he and other officials at a command center did not immediately have more information about the person who was located because they were not at the building.
The missing workers had been at the plant in the morning, said Frank McLaurin, a battalion chief with North Carolina Task Force 8 Urban Search-and-Rescue. Crews trying to find them relied on cameras and listening equipment as thunderstorms delayed the search. They were also concerned because the building was unstable.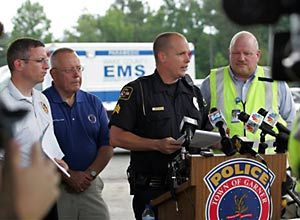 AP Photo/Jim R. Bounds
Sgt. Joe Binns of the Garner Police Department speaks during a press briefing about the explosion, Tuesday.
"This is not a fast operation by any means under any conditions," McLaurin said.
Some of the more than 300 workers on duty described chaos after the explosion. Authorities could not say exactly where in the plant the blast happened or what caused it.
"I was getting ready to pick up a piece of meat off the line and I felt it — the percussion. And you could feel it in my chest and my ears popped," said worker Chris Woods. "One of the guys I was working with got blown back — his hat flew backwards."
Janelle Lynch, who has worked at the plant for eight years, said she saw flames and ran. She planned to leave through the cutting department, but the roof started to collapse, so she went in the other direction and escaped through a warehouse.
"I saw a fire and things just started exploding," she said.
ConAgra spokesman Dave Jackson said someone called the plant over the weekend and threatened to start a fire. He said company officials don't believe the threat was connected to the explosion, but Garner Police Sgt. Joe Binns would not say whether police think there is a link.
"I don't want to go in that direction right now," Binns said. "We're focused on the rescue, not the investigation."
Four people were in critical condition at UNC Hospitals with burns covering between 40 percent and 60 percent of their bodies, said Dr. Charles Cairns, professor and chairman of the department of emergency medicine at the University of North Carolina.
"Anything that covers more than 50 percent of the body surface area is a very major burn and can be complex to take care of and can result in major complications, including death," Cairns said. "So these people are very severely burned."
Debbie Laughery, a spokeswoman for WakeMed, said its hospitals in Raleigh and Cary were treating 17 patients, including two in serious condition, for broken bones, bruises and burns consistent with blast injuries. She said some complained of burning in their throats.
The Environmental Protection Agency was on scene to monitor the air but officials said there was no threat to people who live near the plant, which is located between Interstate 40 and a subdivision but mostly surrounded by large buffers of trees.
Crews kept people away from the site as smoke puffed through holes in the damaged roof early in the day.
About 900 people cover four shifts at the plant, one of ConAgra's largest, Jackson said. The ammonia is used to refrigerate meat before it's turned into Slim Jims.
ConAgra, which has 25,000 employees worldwide, makes brands like Chef Boyardee, Hunt's tomato sauce, ACT II popcorn and Hebrew National hot dogs.
The plant last was inspected by the North Carolina Department of Labor for workplace safety last July and no violations were found, said Labor Department spokeswoman Dolores Quesenberry. The plant had violations in previous years, including a fine in 2007 for problems with eye and face protection equipment.
___
Associated Press Writers Mike Baker, Estes Thompson and Martha Waggoner in Raleigh and AP Business Emily Fredrix in Milwaukee contributed to this report.


Request product info from top Rescue Stretchers companies
Thank You!