December 2008 Product Round Up: Software
---
FireRescue1 is focusing on news and information about Software throughout the month of December. Check out some of these software products and providers currently on FireRescue1:

CoBRA Software Announces New and Improved Hazmat Response Software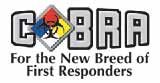 In conjunction with CoBRA software's 8th year anniversary, Defense Group Inc announces the launch of Version 4.3 of CoBRA software. CoBRA software was first released commercially on 12/9/2000 and has since become the preeminent CBRNE decision support software for military and civilian first responders and war fighters. This latest version of CoBRA software includes new databases, tools, guides and functionalities to further support the CBRNE responder.  Call 877-233-5789 or visit www.defensegroupinc.com.

FLAME-SIM Offers High-Tech, Realistic Firefighter Training Simulation



FLAME-SIM's state-of-the-art training system enhances live training events prior to ever taking to the fireground. FLAME-SIM aids in eliminating mistakes and enhancing safety, reinforcing departmental procedures through a process of repetition and evaluation. Because our proprietary software is based on advanced video game programming technology, your personnel will actually want to participate in as many training sessions as they can! For more information, visit www.flame-sim.com or call 1-877-FLAME01.
LFG Command Systems Can Help you Upgrade your CAD System to Improve Safety & Efficiency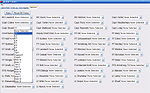 The Digital Fire Command Board is the next step in incident command and a giant leap from the white command boards of old! This application can be linked up to your CAD system or you can generate the units on scene by a series of hotkeys. The system is designed for a commander to safely and quickly have a firm grasp of the crew's position and the time of the completion of the task. No more guessing how long a crew has been at work - this will keep the commander ahead of the incident.
For more information visit lfgcommandsystems.com or call 404-246-8894.
TeleStaff is the Solution of Choice to Reduce Costs and Ease Scheduling



TeleStaff is a scheduling and notification solution that manages staffing the roster; notifies personnel of work or emergencies via phone, pager or e-mail; allocates overtime fairly; provides extensive administrative reports; allows employees access to a personal calendar via a self-serve feature; and interfaces with third-party payroll, RMS, CAD and time and attendance systems. For more information, call 880-850-7374 or visit online at www.telestaff.com.
FIRES is a Specialized Program for First Responder Scheduling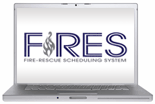 The FIRES Scheduling System™ [FIRES enterprise] is one of the most powerful, versatile, and easy-to-use scheduling software packages available. Created by a unique team of programmers and fire department administrators, FIRES has amassed a multitude of shift scheduling reports, functions, and communication tools tailor-made for Public Safety organizations. With its user-friendly interface and time saving features, FIRES streamlines the overwhelming task of scheduling emergency responders. Call 888-864-4144or visit www.firescheduling.com.
Let Snap Schedule Assist You with All of Your Employee Shift Scheduling Needs



Snap Schedule helps you minimize the time you spend on creating, publishing, and maintaining shift schedules for your employees. Its scheduling and editing capabilities are specifically designed to accommodate all types of industries and around-the-clock operations. Snap Schedule will allow you to spend less time creating and publishing schedules while reducing labor costs and avoiding overtime. Call 800-450-4230 or visit www.bmscentral.com.

For more information on Software, visit the FireRescue1 Software Product Section at www.firerescue1.com/fire-products/software.