'Home rule' vs. mutual aid: The closest unit should be dispatched to priority calls
Fires don't stop at the city border, and hazmat spills don't pool just outside the county line so it's clear who should respond
---
In politics and government, the general principle of home rule pushes control to the local or "lowest" level possible. Home rule statutory changes began to emerge after the Supreme Court affirmed "Dillon's Rule" (Judge John Forrest Dillon, Iowa Supreme Court 1863–1869), which essentially limited local authorities' powers that weren't expressly granted in law by the state or federal government. As a result of that decision, states began to amend their statutes to grant more power to local governments, establishing what we now know by the term "home rule."
In relation to state government, home rule generally means that the state either passes down control or expressly grants legal authority to counties, local municipalities, townships, parishes or other organized governance bodies. The concept is generally invisible in that in most cases, we don't realize when we're crossing back and forth between home-rule states or non-home rule states or local municipalities.
In some cases, we do see the concept manifest, like in road signs that read "End of County maintenance" or "Entering the city of …." There are no guards or checkpoints, no gates or entry codes, just signs to indicate a change in governance or ownership, or simply that it's a municipal or private property boundary. From a maintenance and service perspective, these boundaries are demarcations of expense – as in, the county (or town, city, etc.) will only spend money to maintain the road, "up to this point." Regardless, the designation of home rule versus non-home rule are decisions buried deep in historical politics in communities across the country.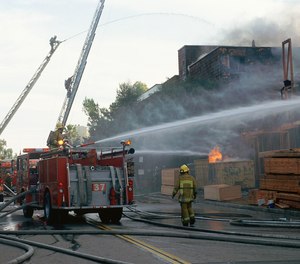 We are all part of a political network
In the fire service, while many within our ranks go to great lengths to avoid politics, the reality is that we are all part of the network of politics and governance in these communities. The most successful fire chiefs, and arguably the most successful fire departments, are those who have mastered the art of navigating the politics of, well, politics. (Please note that I'm referring to politics in the sense of getting things done, not politics in the sense of elections.)
I first shared the concept of the fire chief as an "inspirational politician" several years ago and have since referenced it in several articles. The concept recognizes the fire chief as the administrative and operational face of the department. It is critical that the fire chief learns what makes their politicians and their communities tick, and equally important, what makes them sick. Learning the tick/sick of your politicians and communities can provide the context necessary to massage the message and/or proposals that capture department needs.
The variance across states of home rule politics means there's no perfect balance for fire chiefs and governance policies – our communities tax/fund differently, and our governing bodies have different priorities, different ideologies and different concepts of what home-rule or not-home-rule means.
Emergencies don't know borders
As we all know, fires don't miraculously stop at the city border, vehicle wrecks don't discriminate in which jurisdiction they occur, and hazardous materials spills don't pool just outside the county line so it's clear who should respond. There are no signs that say, "No fire is allowed to extend beyond this line" or "hazmat flows must stop here."
Conversely, at the service level, we routinely hear of fire engines or ambulances reaching the municipal border and coming to a stop. We hear of 911-callers engaged in a dispute with a dispatcher about which jurisdiction the caller is in. And of growing concern lately, we hear of fatal fires where the closest fire station was not alerted (sometimes multiple closer stations) for one or more of many reasons. The state of Pennsylvania, currently leading the nation in fatal fire statistics, has recently been in the news for incidents where several fatal fires occurred while neighboring jurisdiction stations in close proximity sat idle.
On Father's Day 2022, Churchill volunteers responded to a fatal fire in Churchill, Pennsylvania, at a house that sits directly across the street from the City of Pittsburgh Fire Department response borders. The first two engines arrived 10 and 11 minutes after dispatch, but backup units would be 25 minutes or more. Two other Pittsburgh city stations (1.7 and 2.4 miles away) stayed idle.
Churchill's fire chief said the volunteers' response was delayed because members were busy with family matters and such. When the volunteer chief was asked by a reporter whether it would have made sense to have the Pittsburgh stations as backup, his response was, "It could have, but again, would they have called us? No."
The County Emergency Services chief told the same reporter that not using the city did not make sense.
I fully recognize that the issues of mutual aid are complex, but here's a novel concept: How about the closest appropriate unit be dispatched to priority calls? In this case, two city stations would have been able to arrive in 2 or 3 minutes, instead of 10 and 11 minutes. Considering that fires double in size every 3 minutes, SECONDS COUNT!
There is no automatic-aid agreement between the city of Pittsburg and the town of Churchill. I corresponded with Pittsburgh Chief Darryl Jones, who when referring to mutual aid asked, "will we ever break through? This isn't the first time this has happened in our area." Chief Jones indicated a continued willingness to respond – again, a novel concept that Grandma Jones would get the closest response to her emergency.
How does this happen?
There are myriad reasons, dare I say excuses, why the above situations occur (clearly, NOT only in Pennsylvania):
Insurance liabilities
Risk management concerns
Territorial disputes
Statutory policies
Lack of master-planning and/or location adaptation
Guaranteed paid staffing versus unguaranteed volunteer staffing
Inadequate staffing numbers
Uncertainty about whose first-due it is
Who-likes-who (the "buddy-box")
Who has more training
There could certainly be others to add to the list.
Many of these issues are a direct result of the concept of political home rule – local jurisdictions making decisions that are best (in their eyes) for them. Similar to the daily onslaught of firefighter ethical lapses that we see in news headlines, the excuses have tendency to make my blood begin to boil.
Further, there are various levels of mutual aid employed by departments across the country. There are also multiple interpretations of what constitutes various levels of mutual aid. And while some fire chiefs can find themselves caught in the middle of legal wrangling over the issues I mentioned above, still other chiefs refuse to consider mutual aid in an effort to survive in their own political or financial environment. Here's a few comments I've heard from chiefs over the years:
"If I let 'them' come in, it takes call volume away from my budget justifications."
"They can't guarantee they'll get out, so we just skip them."
"I don't like them, they don't train like we do."
"I've had a great relationship with them over the years, so I call them instead of the closer company, and they call me."
I can get behind working to fix the political circus that drives many of the real concerns, but I can in no way get behind any concern that doesn't alert the closest-appropriate resource to a priority call. I also fully recognize that sometimes, the chief may be willing but the politicians or boards may not. I've been involved in all of these situations.
When we don't provide mutual aid down to the SERVICE delivery level, who suffers? Grandma Jones, that's who! We have a responsibility to do the right thing – and not providing closest response isn't the right thing. The concept of helping your neighbor certainly isn't rocket science, but rather, mutual aid should be part of your everyday mission. 
Big picture mutual aid
From the federal perspective, it is important to recognize that as part of every federal grant application, departments attest to there being "mutual-aid agreements" with neighboring departments.
After the events of 9/11, the entire NIMS doctrine matured to a multi-agency incident management system that embraces and depends on robust mutual aid. Here's how FEMA defines mutual aid in five tiers:
Automatic Aid: Units from neighboring jurisdictions are automatically dispatched to the scene as part of automatic-aid agreements. These "interlocal" agreements are usually basic contracts or sometimes informal accords. The threshold for response is described in detail within the agreement.
Mutual Aid: Mutual-aid agreements are between neighboring jurisdictions and involve a formal request for assistance. Mutual aid is activated less often than automatic aid but covers a larger geographic area.
Regional Mutual Aid: Units from a regional mutual aid agreement can assist local units that have been on scene for an extended period of time. Regional mutual-aid agreements exist between multiple jurisdictions and are often sponsored by a council of governments (COG) or similar regional body.
Statewide Mutual Aid: Statewide assistance significantly increases the number of on-scene units. These agreements, often coordinated by the state emergency management agency, incorporate both state assets and local assets in an attempt to increase preparedness statewide.
Inter-State Agreements: Out-of-state assistance through the Emergency Management Assistance Compact (EMAC) supports the response effort toward the end of the first day and onward into the recovery phase.
Now, I recognize that I'm talking about "home rule" in the beginning and "big brother government" in the FEMA framework. The whole point of this discussion really is in the transition between the two. 
Grandma Jones deserves the service we're here to provide, and while our oath may be to the Grandma Jones' of a particular town, borough, city, county or other entity, I submit to you that just like fires, wrecks and spills know no boundaries, neither does the mindset of doing the right thing – THAT's where closest appropriate resource mutual aid (as FEMA gives us the framework for) comes into play. 
It can work
There are many great examples across the country to show how mutual aid can, in fact, work. Here's one example from my past work in the National Capital Region (NCR). Mind you, the NCR system still has its flaws, but the progress that has been made in the past 20 years is phenomenal.
If you think about the NCR in terms of a donut, the cake of the donut is the Virginia suburbs to the west and the Maryland suburbs to the east. Washington, D.C., is the hole in the donut. I use that analogy because the bordering Maryland and Virginia counties have enacted mutual-aid policies and practices that shine the light on the effectiveness of automatic mutual aid. Not only do the jurisdictions share computer-aided dispatch (CAD) platforms, but their units are routinely dispatched and respond across county and state borders. It's not an endless open door in that the jurisdictions' agreements clearly give the "home" fire chief the ability to say "enough" with respect to out-of-county response on a day-to-day basis, considering call volume, other activity and unit availability. Washington, D.C., has begun the CAD-sharing implementation process; however, DC does not participate in the automatic-aid agreements. The city does provide mutual aid if called and available, and the counties all around reciprocate – it's just not automatic.
This has taken many years to achieve, stewarded by the regional Council of Governments (COG) Fire Chiefs Committee. While not universally popular, the system even adopted a regional number system that allows for quick situational awareness, and limits potential confusion of like-numbered-stations across borders. For example, all Prince George's County Fire/EMS units began using the prefix 8 in 2010. Here's the list of NCR COG jurisdiction numbers:
0 – Washington, D.C. (the 0 is not annunciated)
1 – Arlington County, Va.
2 – City of Alexandria, Va.
3 – Metro Washington Airport Authority (DC & Va.)
4 – Fairfax County, Va.
5 – Prince William County, Va.
6 – Loudoun County, Va.
7 – Montgomery County, Md.
8 – Prince George's County, Md.
9 – Frederick County, Md.
10 – Charles County, Md.
11 – Faquier County, Va.
12 – Culpeper County, Va.
13 – Warren County, Va.
14 – Rappahannock County, Va.
15 – Stafford County, Va.
It's important to recognize that we're not in this alone. Whether it's our partner EMS responders, law enforcement officers, dispatchers and call-takers, or any other number of support personnel, we ALL work toward providing that SERVICE, and we should be working towards a form of automatic-aid policies where the closest appropriate unit is dispatched to priority calls. We need to understand the work necessary behind the scenes, as well as publicly, to develop and implement automatic-aid policies.
With respect to our 911 partners, the NFPA long ago developed standards that help 911 centers process calls in a timely fashion (NFPA 1221), and NFPA 1710 and 1720 provide fire departments with the data and standards for staffing and response. These three standards provide enough backup to demonstrate how we can ALL help each not only meet the standards but also, and more importantly, provide more efficient service to Grandma Jones.
Remember, the NCR example above is just one model. I have seen other examples where jurisdictions pay a fee to neighboring jurisdictions, especially when service provided is lopsided from one to the other. There are many cases similar to this around the country.
At the end of the day, the closest appropriate unit getting dispatched without delay is where we need to be.
Grandma Jones doesn't care about politics
As I reflect on the connection between politics and being a fire chief, I am reminded that politics don't matter in an emergency. I've never heard Grandma Jones call 911 and ask for, "those Republican firefighters" or "those Democrat EMTs." She doesn't say, "Send the paid guys," nor does she ask for any particular gender, race or ethnicity of firefighter. She doesn't care where they're coming from – the city or county, around the corner or 10 miles away. She DOES NOT care, but she does expect that the closest available resource is coming. When Grandma Jones calls 911, she expects (and deserves) one thing, and only one thing – SERVICE!
---

Read next:
The fire chief's role as an inspirational politician
Bashoor underscores the need for fire chiefs to be more politically astute in order to best serve the community
---