Acela Truck Company introduces line of purpose-built flood rescue trucks
---
BOZEMAN, Mont. — If your agency operates in a flood prone area and doesn't have purpose-built flood rescue vehicles, Acela Truck Company now offers a new solution.
The frequency of river and coastal flooding events, the leading cause of disaster or weather-related deaths in the United States, is increasing dramatically. 2017's Hurricane Harvey was Houston's third "500 year" flooding event in only the last few years, yet flood waters continue to stop most first responders in their tracks due to lack of proper equipment to adequately provide assistance and safely protect responders.
To address these growing challenges, Acela Truck Company, manufacturer of extreme-duty, commercial truck chassis, recently introduced specialized high-water rescue and response trucks to its line of Monterra 4x4 and 6x6 high-mobility truck chassis. With 47-inch tires, 23 inches of ground clearance, an all-wheel-drive drivetrain, waterproof alternator and starter and proprietary fording kit, Acela's specialized flood rescue variants are capable of fording a whopping 50 inches of water while safely carrying up to 20 seated passengers (including driver) with ample room and payload for pets, personal property or rescue gear. Monterras are additionally capable of safely responding at top highway speeds of 74 MPH making them perfectly suitable for long-distance response.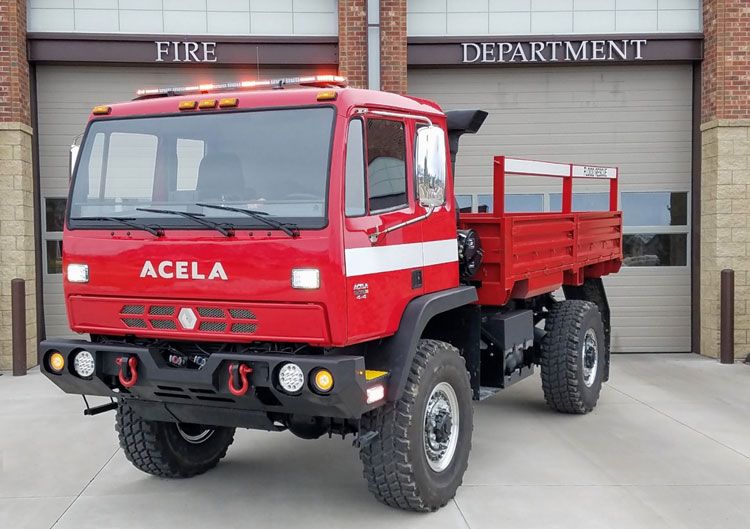 Acela's flood rescue truck products were inspired by company president, David Ronsen, a retired firefighter who spent many years as a field-deployed FEMA operations attaché, responding to dozens of catastrophic flooding events. "I know first-hand how frustrating it is for local fire, law enforcement, EMS, EMA and Search and Rescue agencies to be faced with the challenges of having to rescue thousands of their customers without proper flood rescue equipment", says Ronsen, "Acela's product design team committed to designing an incredibly capable new tool for first responders to reliably and safely impact hundreds of people a day…the result is a true game changer."
The Acela Monterra line of trucks were originally designed for U.S. Army use and are considered to be the most capable wheeled vehicles available in North America. In addition to flood rescue operations, Monterra flood rescue trucks can be used for virtually any disaster response such as tornados and earthquakes, easily traveling over or through large debris, or double as superb brush/wildland fire engines, Urban Search and Rescue (USAR) support vehicles, cargo haulers and SAR/SWAT team troop carriers, in rural and urban environments. Monterras come standard with a bumper to bumper parts and labor warranty. Popular options include warning and scene lighting packages, rescue boat transport capabilities, rain tarps, crew intercom systems and even drone technology to name a few.
Acela's flood rescue vehicle retail pricing starts at $99,000 for 4x4 flood rescue trucks and are available with agency discounts from Acela directly and through select fire apparatus dealers.
About Acela Truck Company
Born from a desire to build the most reliable, durable and capable trucks in North America, Acela Truck Company has developed a tried and true way to bring military grade vehicles to the commercial market. With over 100 years of combined experience in the automotive and transportation industries. We're backed by more than a century of solution-oriented thinking that's motivated by a desire to increase productivity and keep you moving both on and off-highway.