Oshkosh upgrades Snozzle high-reach extendable turret
The company added new features and improved existing ones
---
By FireRescue1 Staff
Oshkosh Airport Products upgraded its Oshkosh Snozzle high-reach extendable turret. The company says the new features improve performance, ergonomics and serviceability.
The enhancements include new electronics software package as well as new hardware and software design to improve operations, troubleshooting and reliability.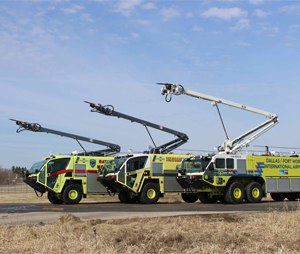 The Snozzle is available on the Oshkosh Striker full range of models. It comes in lengths of either 50 feet or 65 feet, and can be equipped with a penetrating nozzle, a color or forward-looking infrared camera that allows firefighters to discharge from 5 feet below grade to elevations as high as 65 feet.
The electronic control system is now integrated into the chassis controller area network. The hardened carbide steel tip features an updated hydraulic rotary actuator, an increased range of motion (up to 280 degrees), longer piercing depth and a decreased overall width.