Screams from storm drain lead to 'borderline miraculous' rescue in California
A team of four Contra Costa County FPD firefighters entered a maze of storm drains to extricate a man from a 16-inch pipe
---
Don Sweeney
The Sacramento Bee
ANTIOCH, Calif. — Screams for help from a storm drain led to the "risky" rescue of a man trapped for two days in a 16-inch diameter pipe in Northern California, firefighters said.
Fifty rescuers from the Contra Costa County Fire Protection District and other agencies pulled a man in his 30s from a storm drain Sunday, March 20, in Antioch, the department said in a series of Twitter posts.
The complex rescue took 3 1/2 hours, firefighters said.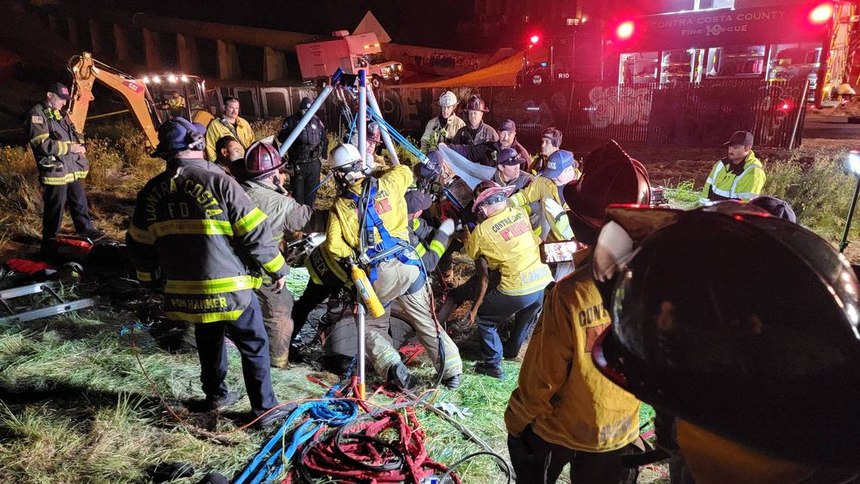 "A couple of things are borderline miraculous: that passersby heard his cries and reported them to 911," spokesman Steve Hill told The Mercury News.
Firefighters initially couldn't reach the area but a battalion chief insisted on continuing to search for the man, Hill told the publication.
The man told firefighters he had been trapped in the 15-foot-deep pipe for two days, KGO reported. He was responsive during the rescue and was taken to a hospital.
It's not clear why he had ventured into the pipe.
"He had crawled into this very small stormwater drainage pipe until he came to a fairly significant debris field, and could not go back," Hill told The Mercury News.
A team of four firefighters entered the maze of storm drains and managed to clear enough debris to extricate the man, Hill told KPIX.
"Not only is the victim at risk when they're stuck down but any rescuers that you put underground are also at risk," he told the station.
Antioch is a city of 111,000 people on the Sacramento-San Joaquin River Delta east of San Francisco.
___
(c)2022 The Sacramento Bee (Sacramento, Calif.)
McClatchy-Tribune News Service

Request product info from top Technical Rescue companies
Thank You!