3 things smart shoppers look for in tech to reduce crashes and decrease response times
Turning red lights to green can be practical and affordable, if you know what to look for
---
Sponsored by Collision Control Communications
By Yoona Ha, FireRescue1 BrandFocus Staff
When you're transporting a patient in critical condition, what would you do if a serious collision slowed traffic to a crawl? Switching horns to signal the sense of urgency can only do so much during a gridlock.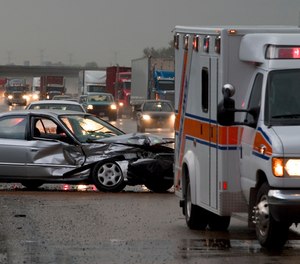 But what if you could orchestrate the traffic signals and part the sea of cars for your patient to throttle through?
This scenario isn't just one traffic engineer's fantasy – it's a reality that many cities, such as Goshen and Ligonier in Indiana, have already implemented to improve safety and shave critical seconds off response times at signalized intersections.
Traffic preemption systems have been around for decades, but there's still a lot of misconception about how the technology works and whether it's a practical solution for small- to mid-sized fire departments.
Here's what you need to know about traffic signal prioritization technology:
1. Know the basic benefits of signal preemption technology
Signal preemption technology can benefit emergency response teams in several ways, including:
Reducing travel times spent en route to emergency departments.
Increasing traffic flow safety at busy intersections.
Reducing the number of traffic-related accidents for first responder vehicles and personnel.
With vehicle-related accidents accounting for roughly 25% of fire service deaths, fire service leaders like Chief Danny Sink of the Goshen Fire Department have turned to preemption technology systems like the Eliminator to prevent accidents from happening in the first place.
The result? Within just one month of introducing the Eliminator, the agency saw shorter response times. In addition, fire engine-related accidents have not occurred since 2017, when he onboarded the program to the city's busiest intersections.
2. Look for preemption solutions that don't require grant assistance
Keeping pace with the latest innovations can be a challenge, especially when your department budget tightens year after year. Fire chiefs often need to rely on the timing of grant cycles to make room for their department's tech purchases, but Collision Control's optical system-compatible preemption system is available at a fraction of the price of a typical GPS-based solution, while still offering the most advanced preemption configuration options on the market.
By not requiring confirmation lights on traffic signals (which come with hefty installation and replacement costs), the Eliminator can save fire departments around $30,000 in savings when you add up dozens of intersections and vehicles, says Sink.
In addition to potential savings on confirmation beacons,  according to Jeff Williams, chief operating officer of Collision Control Communications, said competing GPS systems cost $10,000 to $20,000 per intersection when you add up the cost of installations and the confirmation beacons that need to be installed. Plus, these systems often come with shorter warranty periods, he added. 
"The Eliminator system cost is a fraction of the cost of these other systems which is why Collision Control Communications customers generally pay for it out of their budget instead of going through a long grant process," Williams said.
The Eliminator comes with a three-mile radio range, which benefits departments by bypassing the need to have the radio mounted on a pole. Instead, the system can be mounted on a traffic cabinet (that means you save on having a crew come out for costly bucket truck installations.)
Additionally, the Eliminator vehicle system can use a seven-inch touch screen, no screen (a typical option for police cars), a small LED bank, or integrate into an existing laptop.
3. Know what else GPS-based preemption has to offer
Preemption systems like Collision Control Communications' Eliminator are easily installed and feature key safety features, such as:
Collision avoidance alerts, which give first responders a heads-up on approaching vehicles through an in-car dashboard.
Integration with your existing CAD system.
Local emergency vehicle accident notifications, which notifies other emergency vehicles in the area.
Railroad crossing notifications that notify of railroad blockages so responders can reroute for incoming calls including direction, speed and elapsed time. This information is available in the vehicle on the screen or laptop in addition to a large screen at the station and dispatch.
Traffic cabinet monitoring including monitoring backup power allows responders to wirelessly manage intersection controllers
One feature that's a driver's favorite is the pothole and road deficiency alerts, which help departments better partner with local departments of transportation. Also known as the Road Surface Analyzer uses existing sensors in the Eliminator vehicle unit to identify potholes, bumps, roughness, cracks, and other road surface anomalies (including snow-covered roads) and sort them according to location and severity. These events are logged and correlated to GPS data and overlaid on a mapping application using mapping technology. The system also identifies which portions of roads (and their corresponding surface defects) have already been mapped, and those which have not, allowing vehicles to then traverse the unmapped roadways.
The road surface analyzer allows traffic departments to partner with local EMS and fire departments to monitor the repair of the road surfaces and be able to verify when a repair has taken place. For fire departments in snow-covered areas, the system can gather data that helps traffic departments determine which snowplow methods are the most effective and display that information online so the public can be informed when city roads have been plowed.
And finally, as with any technology-based service you buy, you want to make sure that you'll be in good hands once something goes wrong.
Williams has worked with his customers since the company's founding over 15 years ago and says that his customers often provide inspiration for new key features for the Eliminator. Plus, Collision Control Communications stands by its systems and their reliability by offering a 10-year standard warranty without any ongoing monthly or annual fees.
"We spend considerable time with the emergency personnel that use our system, and not just those involved in the purchase process," said Williams. "We implemented many ideas from first responders without any additional charge to our customers." When it's a good idea we just implement it to make the system better for every customer.
One example? In Goshen, Indiana, there's a traffic light just 150 feet away from the fire station. To preempt this signal, most systems require additional installation for the preemption button on the wall of a fire station, which can become costly. To avoid these additional installation fees, Collision Control instead embedded the on/off feature into its dashboard so the driver can turn those red lights green and see his or her preemption status in real-time.
"Now our firefighters don't have to worry about whether someone already requested preemption or not," said Sink.
Making fire safety improvements like introducing traffic preemption into your department's toolbox can create a multiplier effect. Not only does it cut down response times, but it also helps departments be nimbler and more efficient with their response strategy and resource allocation.
Don't wait until you're stuck in gridlock during a patient transport – plan by exploring how preemption could work with your department's response routine.

Request information from Collision Control Communications
Thank You!