This is the key to better response times and staff safety, according to these two fire chiefs
A traffic preemption system can help clear the way for emergency response vehicles
---
Sponsored by Collision Control Communications
By Yoona Ha, FireRescue1 BrandFocus Staff
No one likes getting the report that response times have increased in their community. But in many cities across the country (New York is a prime example), three factors are causing fire chiefs a headache: ever-increasing population growth, more construction and rising levels of traffic congestion caused by the jump in the number of cars on the road.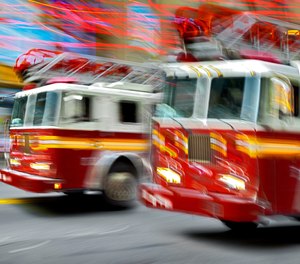 This multifaceted challenge can seem daunting for fire service leaders, especially when lives hang in the balance. From responding to structural fires to life-threatening medical emergencies, even a minute's delay in arrival can mean the difference between life and death.
Two Indiana fire chiefs wanted to tackle this problem in their towns head-on.
Chief Jeremy Weaver of the Ligonier Fire Department and Chief Danny Sink of the Goshen Fire Department looked for solutions that could help their teams maximize every second. Traffic preemption, a technology that can be embedded in the control systems of the traffic signals that run the most crowded intersections, would allow firefighters to give themselves green lights to cut through traffic during emergencies.
"When we initially stumbled upon preemption technology, our first thought was that there was no way that we'd be able to afford it – we're just a small department without a really big budget," said Weaver, who had led the Ligonier Fire Department for over 13 years. "The thought of being able to pass through our busiest intersection quickly really puts your mind at ease, because before when we would go out to that intersection, it just made my stomach cringe."
About 18 miles away in Goshen, Chief Sink also decided to try out the Eliminator, a traffic preemption system developed by a Purdue University engineering graduate and former firefighter.
Originally Goshen pursued preemption due to a large amount of construction through downtown on a state highway.
"What I liked about the Eliminator is that we could navigate through the re-routed traffic easily," said Sink. "With only one route to the hospital, we felt that it was vital for our patient care and delivery to have the timely delivery of our patients to the hospital."
By 2017, both chiefs had signed on to partner with Collision Control Communications. What made the decision easier to commit to was how the Eliminator cost only a fraction of the price of other competing systems.
An affordable, time-tested solution comes to the rescue
The Indiana-based firm had more than 10 years of experience in the preemption field industry. In addition, Collision Control Communications didn't require expensive maintenance requirements or the need to install confirmation lights that notify first responders that a green light has been requested on traffic signals that often call for frequent maintenance and updates.
Bypassing confirmation lights on traffic signals (which come with hefty installation and replacement costs) can save fire departments around $1,500 per intersection. Instead, the Eliminator notifies first responders through their in-car dashboard.
According to Sink, the savings to date have amounted to more than $30,000, since well over 26 intersections did not need confirmation lights to be installed.
"There were secondary savings with not having to maintain and install those confirmation lights, which further helps us save money in the long term," he said.
A boost in safety and effectiveness
Weaver says his city was looking to reduce response times and increase safety, but controlling costs were also a concern.
"We knew that a neighboring city went with a competitor's preemption system and heard that they always had problems with adjusting the system and it cost more," he said.
The Eliminator requires little to no adjustment after installation and provides several key safety alerts. One of Sink's favorite features the "Collision Avoidance," a technology that was patented by Collision Control Communications, which gives his crew to get a heads-up on approaching emergency vehicles through an in-car dashboard.
This proved especially helpful in a construction scenario that could have kept his department's fire engines and vehicles stuck in traffic at congested river crossings, but the Eliminator paved the way for his team to make the only route to the hospital speedy and expedient.
After using The Eliminator for three years, Sink said he's become an enthusiastic supporter of the technology and has been recommending it to other regional fire departments.

"Preemption adds another layer of safety in a system like ours where we stress practicing safety every day," said Sink.
In addition, the Eliminator now comes with a railroad crossing blockage notification system. This feature comes in especially handy for regions with railroad crossings. At Goshen, for example, approximately 120 trains pass through daily, and having the notification system allows for Sink's department to be notified of possible blockages so they can reroute and better plan their resource deployment for incoming calls.
Both departments have experienced reduced response times – and more importantly, the chiefs say, the peace of mind that comes with knowing their crew can always have the right of way in an intersection.
"I would recommend the Eliminator to any sized fire department," said Weaver, "even if you have to have the system installed on a few vehicles at a time. The prices are low enough to be possible, and we know from our experience with the system that it really works."

Request information from Collision Control Communications
Thank You!