Who knew? Preemption that reduces response times at a fraction of the price
'You get what you pay for' isn't always smart advice for tech purchases – look for differences in capabilities instead
---
Sponsored by Collision Control Communications
By Yoona Ha, FireRescue1 BrandFocus Staff
Don't think your department can afford to use a traffic preemption system? The promise of connected transportation system technology that gives first responders priority can mean reduced response times for emergencies. Traditionally, these services led many department chiefs to wonder: How do we pay for this? Luckily, alternatives exist today.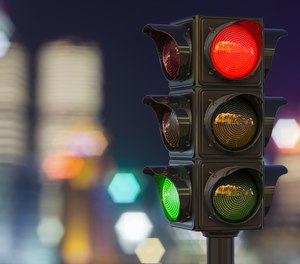 Take it from Lt. Shaun Patterson at Bloomfield Township Fire Department in Michigan, who has spent more than 23 years in the fire service. As a station supervisor responsible for his fire crew, Patterson looked for ways to cut down on the time spent in the city's eight-lane intersection – where two four-lane highways meet – that is frequently congested with traffic and prone to many accidents.
To prevent the fire crew from getting into a mess at that problematic intersection, the department had a policy that required first responders to shut down their lights and sirens at the intersection until the light turned green. For firefighters and EMS, this could mean waiting almost a full minute for those lights to turn green.
Patterson was looking for ways to get to emergency scenes faster when traffic preemption systems landed on his radar. What he quickly realized was that most of the preemption providers offered services that were simply too expensive for the mid-sized agency's departmental budget.
No more hefty upfront costs for traffic preemption technology
After receiving several costly proposals from traffic preemption technology providers, Patterson started doing his research. He was determined to find an alternative and eventually read FireRescue1's article on the Goshen Fire Department's success with the Eliminator, Collision Control Communication's traffic preemption system.
"What surprised me the most was that Collision Control charged departments only a third of the cost of the major names in traffic preemption and that the system could be customized to our department more than the other competitors I got in touch with," said Patterson. "For example, the cost of installing the Eliminator on one vehicle unit was 50% of the cost of the competitor, and installing on the intersections was 66% less than the competitor. In the end, that amounted to 60% of savings for our department."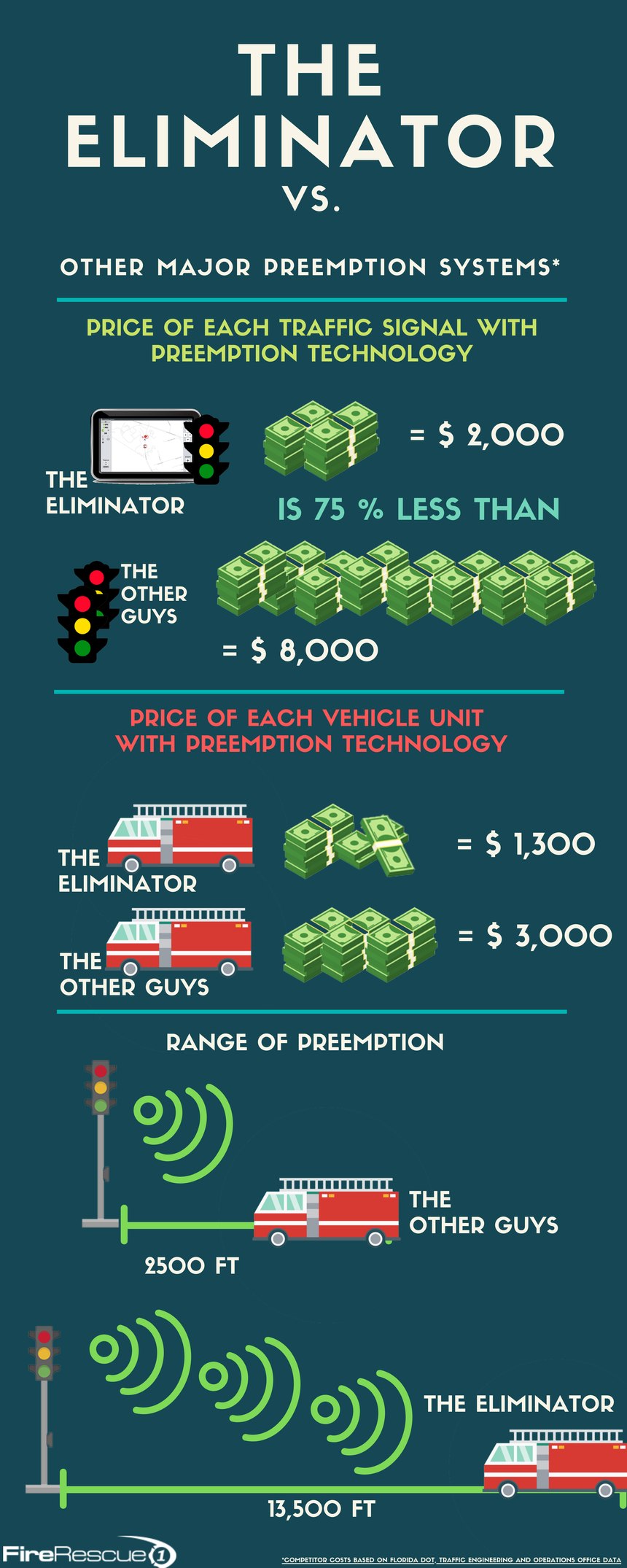 Preemption your department's way
Patterson also liked that Collision Control Communications offered departments an in-vehicle touchscreen dashboard that gives drivers control over when they need preemption. Additional features include:
Ability to give users an accurate status update when red lights go green, even when the light is not within their line of sight
Ability to integrate with any CAD system
Ability to preempt signals without lights and sirens going off on the vehicle
Ability to show railroad crossing notifications in real-time in the in-car dashboard and/or in the CAD system
Ability to avoid collisions, not only with other vehicles but also with other emergency vehicles responding to the same call
With these features in mind, Patterson and his department were able to sign on for 11 vehicles and 4 intersections, with the goal of adding on preemption for another 10 intersections a year until all the township's 76 intersections are covered.
Advice for other fire departments looking into preemption technology
Economy-minded firefighters can find tools like Collision Control Communications online.
"The good news is that there are affordable preemption systems out there," said Patterson. "You don't have to go with the biggest brand out there to make sure that you're getting the best option. That's a huge misconception."
Patterson said he was able to negotiate to add new features for the department, such as the ability to temporarily turn off the preemption system when the vehicle is moving in reverse with its lights on.
Another piece of advice he shared is that departments do not need to commit to installing preemption on all of their traffic lights and intersections. By installing preemption on the most hazardous intersections and longest signal zones, first responders can reduce their response time by up to 90 seconds.  Additionally, the department can improve response times immediately which can help city/county administration see the value to approve more funding.
"Strategizing to address the trouble spots first is key," he said.
Finally, Patterson recommends that fire service staff not be shy about asking for videos or a walkthrough of how the system is used.
"Actually seeing a test run of how the technology is used was a big plus for our department," he said, "because at the end of the day we want to purchase a system that brings results. Being able to see that the product does what it says it's going to do is a game-changer."

Request information from Collision Control Communications
Thank You!