PRESS RELEASE
Westec Insulation celebrates 20 years of protecting fire training structures
---
Hundreds of Fire Facilities structures have been manufactured with the Westec system and put into use by firefighters across the country during the past 20 years
SUN PRAIRIE, Wisc. – For two decades the patented Westec® Insulation System has been protecting training structures --- both inside and out. Introduced in 2003, the burn room insulation system is designed to provide the best overall performance possible for burn room conditions in fire training structures.
"Strong stainless steel wall panels line our burn rooms are tough enough to withstand the most strenuous training exercises," says Aaron Adams, president of Fire Facilities, Inc. "Behind the stainless steel wall panel, a Westec® Insulation Blanket protects the tower from extreme temperature during training. Over the years we have seen how the innovative Westec Insulation System provides the highest level of protection for burn room conditions with minimal maintenance costs."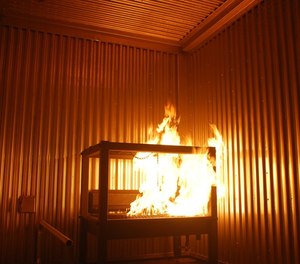 Hundreds of Fire Facilities structures have been manufactured with the Westec system and put into use by firefighters across the country during the past 20 years. Some fire training buildings, like those in Panama City, Florida; Wellsville, New York; and Hereford, Arizona were amongst the first to get Westec systems two decades ago. Others, like those in Bentonville, Arkansas and Cushing, Oklahoma, are getting their new structures with Westec systems this year.
Components of the Westec Insulation System
There are six basic components of the Westec Insulation System. Each is designed to handle important aspects of performance during a live fire burn:
Framing System – Insulated steel channels are designed to resist all imposed loads while allowing the system to flex under thermal expansion.
Westec Insulation Blanket – A 2-inch thick blanket that is stable at temperatures up to 2300 degrees Fahrenheit. The blanket is unaffected by flame, heat, cold or chemicals.
Stainless Steel Panels – Type 304 stainless steel is formed into rigid panels and provides unparalleled protection against impact and water pressure damage. The formed panels allow for thermal expansion across the width of the panels which are installed to expand freely along their lengths.
Thermal Break – There are no screw penetrations between the framing system and the stainless steel panels, providing a complete thermal break. This barrier prevents the direct transfer of heat through the framing system to the building structure.
Flexing and Sliding Connections – The connecting elements from the framing system to the stainless steel panels are made from Type 304 stainless steel and are individually designed to allow the walls and ceiling to expand freely across the length and width of the room.
Corner Guards – All outside corners, doors and window openings are continuously protected with heavy Type 304 stainless steel corner guard angles.
"Under intense heat, the steel channels flex, allowing the panels to expand freely," says Adams. "This allows the system to maintain its integrity. In the long run the Westec system helps protect both the training structure and the burn room."
Tested for Long-Term Endurance
Designed to provide high performance for all burn room conditions, the Westec Insulation System has been tested for many situations. The impressive system is resistant to impact, rust and corrosion, plus direct flame impingement. Thermal performance and high temperatures do not affect the system. The stainless steel panels resist high pressure of hose stream along with freeze cycles.
Finally, Westec incorporates a unique system of structural supports, stainless steel panels, and flexible elements that allow the configuration to move with the heat rather than resist it.
"For 20 years we've successfully used the Westec system in our Fire Facilities training structures," says Adams. "With a 15-year non-prorated warranty for temperatures up to 1850 degrees Fahrenheit, and minimal ongoing maintenance costs, there is no better live fire burn room liner system on the market."
Fire Facilities, Inc. (FFI), founded in 1989 and an ISFSI corporate sponsor, manufactures a full line of steel fire training structures engineered to withstand real-life firefighting conditions. From mobile units to burn rooms to high-rise towers, FFI training models are available in a multitude of configurations. Our parent company, Trachte Building Systems, is one of the largest and oldest manufacturers of steel self-storage systems in the industry.  For more information, visit www.firefacilities.com or call 800-929-3726.