PRESS RELEASE
Globe to Present Wearable Advanced Sensor Platform at Smart Fabrics Summit in Washington, DC
---
Globe Manufacturing Company announced today that it has been invited by the U.S. Department of Commerce and the Industrial Fabrics Association International to speak at the first-ever Smart Fabrics Summit in Washington, DC on April 11. U.S. Secretary of Commerce Penny Pritzker will moderate a panel of senior level business leaders at the Summit.
"Recent advances in technology have brought together the apparel, technology, and textile industries to develop new capabilities in fabrics with the potential to change how athletes, patients, soldiers, first responders, and everyday consumers interact with their clothes and other textile products.
Known as 'smart fabrics', these new high-tech products have the capability to interact with their user or environment, including by tracking and communicating data about their wearer or environment to other devices through embedded sensors and conductive yarns.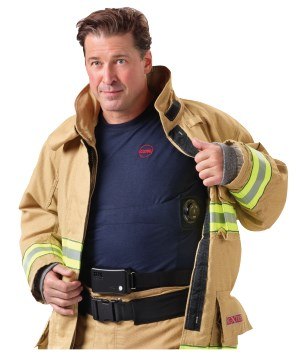 To foster greater collaboration between the U.S. apparel, technology, and textile industries and to identify the public policies that could accelerate the design and manufacture of smart fabrics products by U.S. companies, the Department of Commerce in partnership with the Industrial Fabrics Association International will host the Smart Fabrics Summit."
Globe and its project team partner, Propel, will present its Wearable Advanced Sensor Platform (WASP™), the world's only system for real-time monitoring of physiology and location designed for firefighters and first responders. Globe will present the multi-year process of bringing wearable technology for firefighter monitoring from idea through to commercial availability.

Firefighters experience extreme physiological stress during the course of their duties. According to the U.S. Fire Administration, stress and overexertion account for 50% or more of firefighter line of duty deaths. Factors that affect firefighter physiological responses include exertion of work performed, elevated thermal environment, wearing heavily insulated protective clothing, carrying heavy equipment, as well as individual health status, fitness level, medication, and hydration level. Firefighters are also exposed to extreme hazards during the course of emergency response.
The WASP™ system tracks heart rate, heart rate variability, estimated core body temperature, respiration rate, activity levels, posture, and other physiological factors, as well as 3D location inside a building. Currently WASP™ provides instructors and trainees at training academies with missionessential situational, real-time awareness of both physiological status and location/tracking of personnel to aid in decision making to improve safety and outcomes during training. In the future, WASP™ will provide a tool for incident commanders on scene to track the status and location of team members to improve situational awareness and potentially shorten the time needed for a rapid intervention team to rescue a downed firefighter. "Globe is committed to research and development with the objective of advancing protection and safety for every firefighter and first responder," said Mark Mordecai, Director of Business Development at Globe. "Using the WASP™ system during live fire and resiliency training scenarios can help to improve safety and outcomes and paves the way to using this wearable technology in the field to improve safety for firefighters everywhere. Together with health screening and physical fitness, firefighter monitoring is a critical element to make sure that everyone comes home."
Globe's WASP™ system is now commercially available to training academies and special operations teams and is being installed at the University of Illinois Fire Service Institute (IFSI) in Champaign, Illinois.
WASP™ qualifies for FEMA's Assistance to Firefighters Grants, the goal of which is to enhance the safety of the public and firefighters with respect to fire-related hazards by providing direct financial assistance to eligible fire departments, nonaffiliated emergency medical services organizations, and state fire training academies for critically needed resources to equip and train emergency personnel to recognized standards, enhance operations efficiencies, foster interoperability, and support community resilience.
Detailed information about WASP™ is available at globeturnoutgear.com/innovation/wasp.
About Globe
Firefighters need to be prepared to perform at the maximum of their ability, on every call. That's why Globe delivers the most advanced, best-fitting, and longest lasting protection by listening to our customers, creating breakthrough designs, and applying the engineering skills of the nation's most trusted turnout gear manufacturer. Globe turnout gear is designed to protect you, move with you, and improve your performance. It's athletic gear for firefighters. Learn more at www.globeturnoutgear.com.

Request more info from Globe Turnout Gear
Thank You!