4 instances where the fire hydrant may not be enough
Extreme weather, natural disasters and line breaks can damage fire hydrants and limit water supply
---
When is a municipal water supply system inadequate? Here are four scenarios where the water available from the fire hydrant may not be enough to meet your fire control requirements:
Water main break. A water main break to a significant distribution line – an increasing threat as community water supply systems age and do not receive maintenance or upgrades.
Natural disasters. Damaged or inaccessible fire hydrants due to storm debris or flood waters, which can happen often following hurricanes, tornados and other natural disasters.
Distance. The fire is physically beyond the boundaries of the municipal water supply. The wildfires in California and other western states underscore how development can put significant housing in areas where the available water supply does not even approach being adequate when facing a rapidly developing wildfire.
Fire scope and size. Fire control requirements that exceed the available water supply. Building construction for large-scale multi-family dwellings and commercial structures using wood have increased with new technologies for creating wood construction products.
There are many more possible scenarios where a municipal water supply would be inadequate, but, suffice it to say, any community has the potential to be in a situation where the water is just not there when it is needed.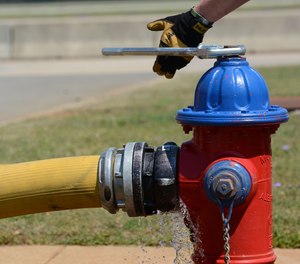 Big water, long distance
There are three strategies used by fire brigades, civil defense, industry and fire departments to obtain water at a distance when local resources are insufficient. 
Water tenders. Many fire departments attempt to overcome such challenges through the use of water tenders, which can usually sustain about 500 gallons per minute GPM flow.
Relay pumping. Water shuttles can be equipment intensive, requiring multiple pumpers and hoses. However, the widespread adoption of large diameter hose has greatly improved the capacity of relay pumping for many departments.
Hydraulic pumps. Water supply systems using submersible hydraulic pumps powered by diesel engines can access static water source (e.g., lakes, rivers or reservoirs). The pumps can be mounted in heavy-duty pickup trucks or trailers and can be equipped with standard and high flow impellors, creating a real-time, large-scale water supply over several miles.
Investing in equipment and training for alternative water supply strategies can mean the difference when your department finds the hydrant isn't enough.