N.Y. fire dept. adds vehicle-exhaust removal system for firefighter health
The North Tonawanda (N.Y.) Fire Department installs a Plymovent Magnetic Grabber® Vehicle Exhaust Removal System to improve fire station air quality
---
The following is paid content by Plymovent.
Exposure to vehicle exhaust can cause cancer and blood diseases — an added risk no firefighter or EMT should have to face. Installing a vehicle exhaust removal system can improve air quality in a firehouse and provide firefighters and EMTs with a healthier working environment.
Plymovent Magnetic Grabber® Vehicle Exhaust Removal is one such system. The Magnetic Grabber® Vehicle Exhaust Removal System removes hazardous exhaust and minimizes the amount of air that needs to be removed, which reduces the total investment in general ventilation equipment and reduces energy consumption.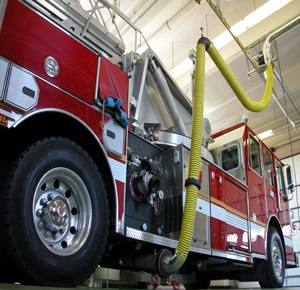 A key component of the system is the sealed nozzle design, the Grabber, available in both a pneumatic and magnetic version. With the Grabber, the Plymovent system provides virtually 100 percent source capture performance that complies with various regulations, according to the company.
The Magnetic Grabber® is a vehicle exhaust removal device that provides a quick, easy and controlled connection from a full standing position and disconnection to a vehicle's exhaust system tailpipe— dubbed the Plymovent "click-and-seal" principle. The Grabber connects to the tail pipe, capturing and eliminating virtually all exhaust fumes. It is used mainly in areas where an emergency vehicle is moving through an enclosed space, like fire station bays.
The Pneumatic Grabber® version also attaches to the tailpipe, where a user pushes the fill valve to inflate the grabber nozzle from a full standing position that ensures a positive seal around any size tailpipe to capture dangerous exhaust fumes.
Plymovent's advance technology has proven its worth to the North Tonawanda (N.Y.) Fire Department, which installed a Magnetic Grabber® Vehicle Exhaust Removal System to improve fire station air quality and reduce cancer threats from airborne toxins, said Chief John Lapham. The Plymovent system replaced an earlier model from a different manufacturer as wear-and-tear along with design flaws made the system unusable, Chief Lapham said.
"You could see soot on the electronic equipment during station clean-up," he said. "It was a red flag, and we needed to do something about it."
All stations now have a Plymovent Magnetic Grabber® Vehicle Exhaust system with a minimum of two hose drops to allow for reserve apparatus storage, while fire headquarters was set up with four drops. The mechanic's shop was fitted with an adjustable system for all equipment.
"The newer design, along with backflow prevention, has greatly reduced the soot deposits throughout all stations," Chief Lapham said. "We can tell in the daily cleaning duties as there is no soot build up. It has made for a healthier work environment for all our personnel."
Chief Lapham said the Magnetic Grabber® attaches easily to the tail pipe — saving time and preventing damage to equipment. This was a big change compared to the previous system that did not release and was damaged by being dragged behind the apparatus.
"This saves money and time," he said. "It is easy to attach it on fast and has a quick and smooth disconnect as it automatically detaches."