PRESS RELEASE
Code 3® launches new 600 Series Compartment Light
---
ST. LOUIS – Code 3®, Inc., a leading manufacturer and developer of light and sound emergency products, today announced the launch of the new 600 Series compartment light.
Code 3's all new 600 Series compartment light distributes light thoroughly throughout large workspaces without the need to add multiple lights. Ideal for illuminating large spaces such as command units, box trucks, buses, prisoner transport vehicles, and training units with up to 4,800 lumens of light intensity. "We are excited about the addition of 600 Series to our line of compartment lighting. It is our brightest compartment light to date," said Lauren Theisen, product manager.
The 600 Series are available in lengths of 18 inches and 33 inches. Each model is 3.9 inches high and 1.1 inches deep. Each model is switched, operates on 12 or 24V systems, and surface mounts with concealed fasteners. The 600 Series is constructed in an aluminum case and has an acrylic lens. Every model is CE and RoHS certified, and each unit comes with a three-year warranty.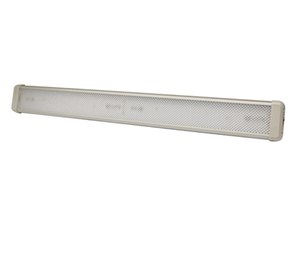 To learn more about the 600 Series compartment lights click here: https://youtu.be/eVtu1-C8kP4
For more information, visit code3esg.com or call Code 3 Customer Service at (314) 427-2700.
About Code 3
Established in 1974, Code 3 Inc. designs and manufactures a complete line of emergency lighting and warning products for police, fire, emergency response, utility and industrial applications in Saint Louis, MO. Code 3 Inc. is a member of ECCO Safety Group (ESG).
Request more info from Code 3, Inc.
Thank You!