PRESS RELEASE
Ferrara Fire Apparatus Inc. introduces new Invadertm Custom Pumpers with six-month-delivery
---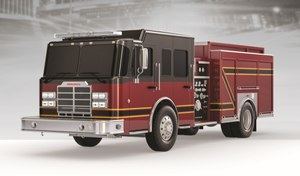 Holden, La., – With an industry best lead time, Ferrara Fire Apparatus Inc., a subsidiary of REV Group® and a leading manufacturer of fire apparatus, is pleased to introduce the new Invader, a complete line of ready-to-build custom pumpers that provides the mission critical performance fire departments expect and delivery in six months.
The competitively priced Invader provides customers the flexibility to choose from multiple configurations with a range of options to meet their unique operational needs.  

Primary features offered include:
94" wide, extended medium aluminum cab with a 10" raised roof  
Cummins 380-500 hp engine
Allison 3000 EVS™ transmission
Meritor® axles
3/16" extruded aluminum body
Roller shutter compartment doors 
500 to 1,000 gallon polypropylene water tank
Available in top and side-mount pump control configurations
Hale, Waterous, or Darley 1,500 – 2,000 gpm pumps
Optional FoamPro® 1600 or FoamPro® 2001 foam system
Optional 10, 20 or 30 gallon foam cell
"We are excited to introduce the Invader which offers accessibility and convenience for customers in need of a custom pumper," said Jason Louque, Director of Sales for Ferrara Fire Apparatus. "With the uncertain nature of budgets as well as the challenges presented because of the COVID-19 pandemic, the Invader is a vital addition to our product lineup."
For more information on the Invader, please visit https://www.ferrarafire.com/category/invader/
About Ferrara
Ferrara is a part of REV Group (NYSE: REVG), a leading designer, manufacturer and distributor of specialty vehicles and related aftermarket parts and services. Ferrara builds custom heavy-duty fire apparatus for municipal and industrial fire departments. Located in Holden, Louisiana, Ferrara is focused on protecting firefighting personnel with a custom chassis line and extruded aluminum body that exceeds NFPA and industry safety requirements. With over 6,000 trucks in service worldwide, Ferrara continues to lead performance standards by delivering custom engineered fire trucks that provide maximum response capabilities.
About REV Group, Inc.
REV Group® (REVG) is a leading designer, manufacturer, and distributor of specialty vehicles and related aftermarket parts and services. We serve a diversified customer base, primarily in the United States, through three segments: Fire & Emergency, Commercial, and Recreation. We provide customized vehicle solutions for applications, including essential needs for public services (ambulances, fire apparatus, school buses, and transit buses), commercial infrastructure (terminal trucks and industrial sweepers) and consumer leisure (recreational vehicles). Our diverse portfolio is made up of well-established principal vehicle brands, including many of the most recognizable names within their industry. Several of our brands pioneered their specialty vehicle product categories and date back more than 50 years. REV Group trades on the NYSE under the symbol REVG. Investors-REVG

Request more info from REV Group
Thank You!