PRESS RELEASE
Metro West Fire Protection District's new bacterial killing technology
---
Sponsored by Code 3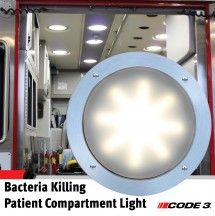 The Metro West Fire Protection District has become the first in the United States to implement the new "Patient Compartment Light" powered by Vital Vio to add a layer of infection protection. This new light gives Metro West advanced life support units the ability to constantly disinfect even when our firefighter/paramedics are not thinking about it, therefore allowing them to remain securely focused on the patient. When crews are driving to or from a call, or when they are driving back from the hospital, the lights are constantly disinfecting the ambulance. 
  
The Code 3 bacteria-killing lights, in combination with the traditional cleaning that Metro West firefighter/paramedics undertake following a call, will dramatically reduce exposure of both patients and paramedics to pervasive and costly germs. If they get sick, there is a cost to the fire district as well as the paramedic, their family, their kids who go to school as well as risks to those attending that school. This is ultimately why Metro West felt this technology was needed for the district. Currently, to protect patients and firefighter/paramedics from dangerous bacterial contaminants, Metro West uses two intermittent cleaning processes for disinfecting their ambulances. The intermittent cleaning processes included manually wiping down the inside of their ambulances with bleach and using an ultraviolet (UV) light when the ambulances were not in use. The new germ-killing compartment lights add an additional layer of protection. 
  
The growth of bacteria and other germs is a continuous problem that has traditionally been dealt with using intermittent solutions. Intermittent cleaning can be effective in reducing the presence of viruses and bacteria growing on surfaced in an ambulance. However, immediately after the interior space is wiped down and/or the UV light is removed, the risk begins to grow again. As soon as a person, patient or crew member enters the ambulance, they are reintroducing germs, hence the growth process begins again. The ambulances are much like a moving emergency room and cannot be easily cleaned at all times using traditional cleaning methods. However, Metro West's main goal is safety. Safety for the community as well as the safety of our crews. We wanted to reduce exposure risks for both workers and patients; risks that affect not only our paramedics but also for the community we serve. 
  
This added layer of infection prevention was easy to adopt. No structural changes were needed to Metro West's existing ambulances when the new Code 3 light was installed. In just 90 minutes, Metro West fleet management staff installed eight lights in each of our ambulances. These bacteria-killing LED lights do not put a drain on the vehicle's battery. The ambulances are all plugged into shoreline power and the Code 3 compartment lights are left on at all times. The staff knows they are better off if the Patient Compartment lights stay on. 
  
Media representatives can contact Metro West Division Chief of External Affairs Mike Thiemann at 636-262-3044 or via email at miketh@metrowest-fire.org for additional information. 
About Code 3
Code 3®, Inc. engineers and manufactures a complete line of vehicle lighting and siren systems used by police and fire professionals. In business since 1974, Code 3's primary goal is to design products that enhance the safety of our customers, including law enforcement officers, firefighters and emergency medical technicians (EMT). Code 3's headquarters and plant are located in St. Louis, Missouri.
Request more info from Code 3, Inc.
Thank You!