PRESS RELEASE
Pierce places TAK-4 T3 system-equipped quantum aerials into service at the Oshkosh Fire Department
---
APPLETON, Wis. — Pierce Manufacturing Inc., an Oshkosh Corporation (NYSE:OSK) company, has placed a pair of Pierce® Quantum® quint 105-foot heavy-duty aerial ladders into service with the Oshkosh Fire Department in Oshkosh, Wis. The apparatus feature TAK-4® independent front suspension and the TAK-4 T3™ steering system, combining mechanical rear steering with a fully independent rear suspension for unmatched maneuverability, ride quality, traction, and stability.
"With the advent of our TAK-4 T3 steering system, we've set a new benchmark for performance, control, and firefighter comfort," said Jim Johnson, Oshkosh Corporation executive vice president and president of the Fire & Emergency segment and Pierce Manufacturing. "It's engineered for military-grade strength, and is the perfect complement for heavier apparatus. We're very excited to have these aerial trucks equipped with TAK-4 T3 on duty in the fire department of our parent company's namesake hometown."
"These new Quantum quint vehicles respond as both engines and ladder trucks, and we put a lot of miles on them over some very rough and narrow streets," said Tim Franz, fire chief at the Oshkosh Fire Department in Oshkosh, Wis. "The turning radius is excellent, and the handling is equally impressive. We notice a big difference when driving over railroad tracks and negotiating tight 90-degree turns. Even when pulling out of the station, we don't get the twist and body roll we normally experience with a straight axle truck. It's pretty amazing."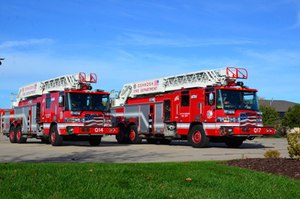 Each of the identical pair of Quantum aerial ladders are equipped with a Detroit DD13 500 hp engine and a Command Zone™ advanced electronics and control system. The vehicles feature a GVW rating of 74,800 lbs. and the tandem rear axles carry a GAWR rating of 52,000 lbs. The cab includes seating for four firefighters, a forward facing EMS compartment, and frontal impact and side roll protection systems.
The four-section, 105-foot aerial device includes remote tip controls, a 2-way intercom, a LyfePulley rescue system, and LED rung lighting. The firefighting system includes a 1,500-gpm single stage PUC pump, a 500-gallon water tank, and low mount crosslays. "Our purchasing committee specified all aspects of the vehicles, and we went with the Quantum chassis as our firefighters appreciate the room in the cab and overall handling" Franz explained. "We've heard nothing but positive feedback on our new quints, and that's a big deal. Our firefighters are really happy with them."
The Oshkosh Fire Department was founded in 1856 and is one of the oldest in the state. It runs six fire stations and features 108 personnel, including an operations team of 96 line officers, equipment operators, and firefighter/paramedics. The department's protection area includes the University of Wisconsin-Oshkosh, multiple industrial parks, and portions of the Fox River and Lake Winnebago. Known as the Event City, Oshkosh is home to EAA AirVenture (the world's largest airshow) as well as several major summer outdoor festivals. Pierce dealer, Fire Apparatus and Equipment, Inc. of Appleton Wis. provides local service and support. For more information, visit www.nilesfae.com.
About Pierce Manufacturing
Pierce Manufacturing Inc., an Oshkosh Corporation [NYSE: OSK] company, is the leading North American manufacturer of custom fire apparatus. Products include custom and commercial pumpers, aerials, rescue trucks, wildland trucks, minipumpers, elliptical tankers, and homeland security apparatus. In addition, Pierce designs its own foam systems and was the first company to introduce frontal airbags and the Side Roll Protection system to fire apparatus. To learn more about Pierce, visit www.piercemfg.com.
About Oshkosh Corporation
Oshkosh Corporation is a leading designer, manufacturer and marketer of a broad range of access equipment, commercial, fire & emergency, military and specialty vehicles and vehicle bodies. Oshkosh Corporation manufactures, distributes and services products under the brands of Oshkosh®, JLG®, Pierce®, McNeilus®, Jerr-Dan®, Frontline™, CON-E-CO®, London® and IMT®. Oshkosh products are valued worldwide by rental companies, concrete placement and refuse collection businesses, fire & emergency departments, municipal and airport services and defense forces, where high quality, superior performance, rugged reliability and long-term value are paramount. For more information, please visit www.oshkoshcorporation.com.

Request more info from Pierce Manufacturing
Thank You!