Elkhart's EXM operating system raises the bar
The intent in designing the EXM was to 'create an overall control system'
---
When Elkhart Brass set out to design a new monitor and valve operating system, they had a few key points in mind: It had to be easy to use, it had to be flexible, and it had to be durable.
Elkhart's new EXM operating system has nailed all three.
"The intent in designing the EXM was to create an overall control system," Eric Combs, EXM Product Market Director, said. "Apparatus builders have to optimize systems according to users' needs."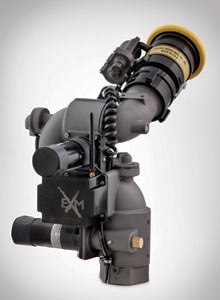 In a nutshell, the EXM is a management tool that allows an apparatus — like a fire truck or airport rescue vehicle — to effectively and efficiently use their hardware.
"There's a trend in the industry where there's less budget available," Combs said. "It's harder to make capital purchases, and when you do you have to maximize each dollar. Our intent is to enable apparatus builders — and ultimately end users — to have broad control of their applications."
Elkhart designed the system so that users can intuitively understand and use their system with the minimum of training.
"The feedback so far has been that the system is very simple, very easy to use," Combs says.
"Firemen shouldn't be focusing on how to use the equipment — they should be focused on the incident. Our integration [of the system] helps with that. The user doesn't have to focus on what three levers to push."

The system is fully customizable, designed to be an a la carte product that fire departments or apparatus manufacturers can configure exactly the way they want. Besides the basic monitor and controls — which can easily be built into an existing system — companies can add handheld controllers that enable users to manipulate the system away from the truck.
And EXM controllers offer the maximum in configurability and programmability. Whether you use a panel mount, handheld controller, joystick, or PLC (your own controls), "all can be configured and programmed by the builder or user for specific functions tailored to their application," Combs said.
Controls are programmable in regards to stow, single or dual axis oscillation, 3-D limits, and speed.
As for durability, Elkhart intentionally set the bar high. They designed the system with deep mining and construction rigs in mind, where daily use can put a severe hurting on lesser built products. As a result, all their systems are designed to withstand a high level of rugged use.
"Our products are designed for eight to ten hour use in mind." Combs said. EXM systems have improved monitor construction, motors, and improved sealing methods, all of which result in higher durability, longer expected product life, and higher duty cycle use
Elkhart also made sure all electronics are watertight, eliminating leak paths (areas where water can seep in) that are found on typical motors. Typical problem areas like screws and fasteners have all been improved with o-ring seals; electronic components are encased in an insulating plastic.
All of this adds up to one fact: the Elkhart EXM is safe. Their software has built-in fail safes based on cutting edge feedback technology that prevent monitors from doing anything unexpected.
And everything is upgradeable. Their systems are USB enabled, allowing end-users to install new software by simply plugging in a memory stick. Systems diagnostics are done by installing a piece of software that runs an analysis that is then sent back to Elkhart.
"If problems do arise, troubleshooting is simplified. Diagnostic files greatly improve the troubleshooting process," Combs said.    
Elkhart Brass is a leading manufacturer of innovative firefighting and fire protection equipment. Elkhart products can be found in fire departments around the world, building systems and off-shore drilling sites, as well as in military, marine, and industrial firefighting applications. You can find them on the Web at www.elkhartbrass.com.

Request product info from top Fire Monitors companies
Thank You!