High impact wildland firefighting capability in a small package
When just getting to the fire often involves a good hike, these portable personal fire pumps lighten the load
---
Wildfire season in 2019 was catastrophic for many parts of the western U.S., particularly California. And 2020 isn't shaping up to be much better, given the effects of climate change on weather patterns and the continuing coronavirus pandemic.
The number of wildfires in the western United States continues to increase daily. Yesterday, the National Interagency Fire Center (NIFC) reported 87 large fires were burning across the country. Today that number has increased to 96.
These fires have now scorched 3,466,194 acres, the NIFC said (CNN, September 9, 2020).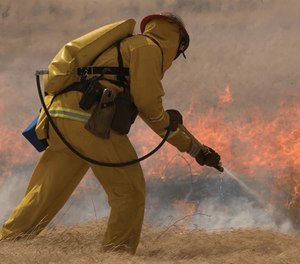 It's not just the western U.S.
Structural firefighting departments across the U.S. are increasingly responding to fires in the wildland urban interface (WUI) as population migration and residential construction continue to expand into the WUI. Many of those departments lack the specific wildland firefighting gear.
Water on the fire early AND late
The key to controlling most wildfires is reaching the seat of the fire early and working the left and right flanks to affect extinguishment. This is particularly true for fires east of the Mississippi River in the U.S. where firefighters most often encounter wildfires that are working in ground fuels, not "exploding" in treetops like they do in California. (Apologies, to firefighters in the western U.S. states but you folks encounter a type of wildland fire that most of your brother and sister firefighters in the east are totally unfamiliar with.)
Backpack fire pumps are essential tools in the mop-up duties.  Firefighters patrol the forest looking for smoldering hot spots.  They expose these with digging tools such as the Pulaski, extinguishing the embers with the fire pump so they don't re-ignite. "Fire crews tell me at trade shows that these get a lot of work in this manner," said Tom Gallagher of the Fountainhead Group, manufacturers of the Smith Indian fire pumps.
But one thing that many firefighters can agree upon is many of us got our first experience fighting a woods fires or grass fire with a steel "Indian Tank" on their back, remember? A firefighter carrying an Indian Tank – with its five gallons of water and a hand pump nozzle with an affective reach of about 30 feet, depending on the wind – is a firefighter with a tool to effectively reach and "get at a fire" while it's still in its formative stages.
Since 1925, the Smith Indian Fire Pump has been one the most recognized names in the wildland firefighting industry. And those "Indian Tanks" have been a stalwart means of extinguishment for many fire departments large and small.
"Almost every firefighter that I have ever met calls their portable personal fire pumps "Indian Tanks," said Amanda Keesey, a volunteer firefighter in Pennsylvania. "It's like the way some refer to their hydraulic rescue tools as the 'Jaws of Life' regardless of who the actual manufacturer is for their fire department's tool."
Steel tanks
The original galvanized-steel model Smith Indian Tank is still getting the job done today, just as it has since its introduction to the fire service in 1925. Not one to rest on its laurels, today the Indian Fire Pump is available in both the original galvanized-steel and stainless-steel tank models.
Lighter fire pump options
Just getting to the seat of the fire with an "Indian Tank" on your back often involves a good hike with 52-pounds on your back (10 lbs. for a stainless-steel tank model and 41.5 lbs. for the water or 11 lbs. for a galvanized-steel model and 41.5 lbs. for the water).
To lighten that load, Smith introduced it polyethylene tank model. It's 10-percent lighter than its steel siblings and has the same five-gallon tank capacity. (The polyethylene tank model with water is roughly 47 lbs.)
According to Gallagher, firefighters like the poly tank for the same reason they like the steel tank fire pumps. "They store 5 gallons on the truck very effectively, so when you reach the hot spots, you can hit the ground running and quickly extinguish small fires that are spreading.  That's why these are popular on brush trucks," said Gallagher.  
And that's the reason that Indian sells a lot of those rigid style tank fire pumps (both poly and steel models) to loggers, utilities, and other outside workers. "The full tanks of water are kept mounted on their trucks in case they ignite something," said Gallagher. "They're a great safety tool and often times work regulations out west [in the U.S.] will require these on the trucks."
Does your fire department need a more compact unit that stores more easily on your apparatus, but still gives your firefighters the same firefighting capability? Well then you'll want to take a look at the SmokeChaser Collapsible Indian Fire Tank Bag with Pump (the same pump used by U.S. Forest Service firefighters).
The Chief Heavy-Duty Dual Bag Nylon Fire Pump is a more comfortable version of the SmokeChaser. It has a dual bag; a durable outer bag that offers protection, and an inner liner that forms to your back.
Both the Smokechaser and the Chief have the same five-gallon capacity and pump action nozzle as their rigid tank counterparts, they just come in a collapsible model that can easily be rolled up and stored in a compartment on your fire apparatus for rapid deployment. Each model weighs in at 5 lbs., so with 41.5 lbs. of water, a firefighter is looking at a load of about 47 lbs. for that hike into a fire.
Finally, there's the "big brother" in the Smith Fire Pump family, the Smokechaser Pro Soft Pack Backpack Fire Pump. Its heavy-duty flexible bladder forms to a firefighter's back when full providing the most comfort and functionality while working in the grueling conditions of fire control. It comes with an impressive set of features that add to its functionality and durability. Start with an ergonomically designed wedge shape bag for greater load balance that rides higher on the back.
Then add heavily padded, adjustable shoulder straps, a padded lumbar belt, and chest cinch strap to secure the load and help transfer weight from the shoulders to the hips to reduce back strain and fatigue over the long haul. If you don't prefer the waist belt, it tucks into its own space in the lumbar padding.
If that wasn't enough to make you want the Smokechaser Pro Soft Pack for your next wildland fire job, check out these storage features that really set it apart from the crowd:
A large pocket for carrying hand tools, nozzles, or personal items (e.g., extra goggles, sunscreen, compass, energy bars).
A large pocket across the bag's bottom provides more storage (big enough to hold a shelter tent!).
Side pocket for storage of the brass pump when it's not being used.
Straps on the bag, belt, and shoulder straps for securing small items while keeping them easily accessible.
"The Smokechaser Pro Soft Pack is comfortable backpack that also happens to be a fire pump," said Gallagher.
So, which Smith Indian Fire Pump will best meet the wildland firefighting equipment needs for your fire department? Tough choice, right?

Request information from Witmer Public Safety Group, Inc.
Thank You!