PRESS RELEASE
Key Hose launches the first new diameter attack line in decades: TRU-ID 2.25"
---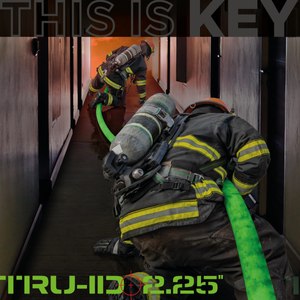 DOTHAN, AL — Born out of the challenges faced by today's progressive firefighting community, Key Hose launches the first new diameter attack line in decades. Introducing TRU-ID 2.25", the latest addition to true diameter hose solutions. When introduced in 2017, TRU-ID set new standards for ergonomic, lightweight, high quality, double-jacketed attack lines. Now, TRU-ID 225 adds more options to this game-changing line of high-performance attack lines. TRU-ID 225 combines an exclusive true internal diameter of 2.25" with a smaller outside diameter for a more ergonomic grip, so firefighters can easily maneuver and precisely guide the handline.
TRU-ID 225 is ideally suited for high rise applications and large caliber attack line operations. When charged, each 50' length of TRU-ID 225 eliminates over 20 pounds of weight clearly outperforming traditional 2½" attack lines. Premium double jacket construction offers higher abrasion and puncture resistance for maximum dependability. The exclusive tru-tuned diameter is guaranteed to wash out kinks and deliver targeted flow rates while providing the nozzleman increased mobility with less fatigue.
Doug Bonney, Director of Sales and Marketing, Key Hose, stated, "We are excited to deliver this revolutionary hose size to the industry. At Key, we are constantly looking for ways to provide firefighters solutions to the everchanging challenges they face." Mr. Bonney went on to say, "Our commitment has always been to listen to these experts, so that we can design and engineer innovative products that make firefighting more efficient, and more effective with safety in mind."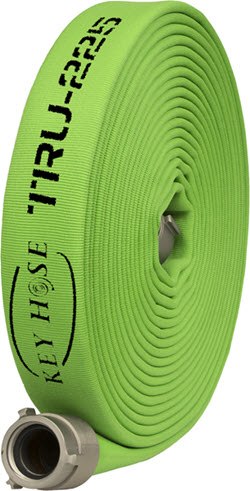 TRU-ID 225 is designed for use with low pressure/high volume nozzles and comes standard with lightweight, laser engraved, extruded aluminum alloy couplings. These anodized, threaded expansion ring couplings are guaranteed for the life of the hose. The laser engraved TRU-ID logo is your assurance of genuine TRU-ID technology. TRU-ID 225 is made and tested in Dothan, Alabama and is NFPA compliant.
Classic performance in an innovative design and rugged construction guaranteed to withstand the rigors of the fire ground for years to come. TRU-ID 225 from the hose experts, Key Hose — get your hands on it and seize the power of targeted flows with command and control performance. Visit keyhose.com/TRU-225
About Key Hose, Inc.
With over three decades of service, Key Fire Hose is the industry leader in the design and manufacture of woven jacketed and rubber covered fire hose products. In striving to become the "best hose company in the world," we've grown from our original 16 looms to reach triple-digit loom capacity with multiple facilities proudly based and manufacturing in southeast Alabama. For further information, please visit our web site at www.keyhose.com