PRESS RELEASE
New and Improved Hale Fyr Pak Portable Pump Delivers Water to Remote Locations
---
Powerful, Lightweight Ergonomic Backpack Ideal for Hard-to-Reach Incidents
CONSHOHOCKEN, Pa. — Hale has improved its Fyr Pak™, an ergonomically designed, backpack-mounted water pump as an ideal pump package for fighting wild land and forest fires. This portable centrifugal pump is mounted on a padded adjustable backpack frame and weighs under 34 pounds, making it easier for firefighters to reach and navigate a variety of rural terrains.
The Hale Fyr Pak was developed to cut down on response time to forest and other rural area fires in hopes of reducing risk of firefighter injury or damage to the land and wildlife in the region. The portable pump can collect water from virtually any water source, including streams, ponds, draft, relay or port-a-tank. The unit comes with engine over-speed protection.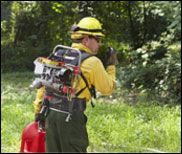 The Fyr Pak system includes the following components:
• Lightweight, durable, corrosion-resistant aluminum alloy head;
• Bronze-enclosed impeller for maximum efficiency;
• Patented floating bronze clearance ring for minimum clearance to prevent rubbing, seizing and alignment problems;
• Horizontal pump shaft, protected against corrosion by a bronze sleeve;
• Compact, hand-operated position type brass priming pump;
• Hot ember-resistant and cleanable air filter system;
• 8 horsepower at 7,000 RPM; and
• Water-resistant, solid-state ignition.
The new, shorter and lighter Fyr Pak's frame is 25 inches long and 13 inches wide to provide sufficient comfort and clearance for fire fighter's head gear.
"Hale's goal is to protect the safety of those who so bravely volunteer to fight fires," said Bruce Lear, Hale's vice president of sales and marketing. "Smokejumpers and hotshot crews need to be able to move quickly while spending days on end fighting fires. We do what we can to make their equipment more comfortable and easy to use in critical situations."
To schedule an interview with a Hale representative or to learn more about the Fyr Pak, contact Debra Yemenijian at (610) 269-2100, ext. 224, or debray@schubert.com.

About Hale
Hale, based in Conshohocken, Pa., is a fire and rescue equipment company founded in 1914 by three Pennsylvania firefighters who believed they could build a better fire pump. Today, the company has grown through new product innovation and strategic acquisitions to supply pump modules, compressed air foam systems, electronic controls and valves. For more information, visit www.haleproducts.com.