N.M. FFs brace for 4+ days of wind, dryness, high temps amid wildfires fight
The impact could be especially problematic near the Hermits Peak, Calf Canyon and Cerro Pelado fires
---
Rick Ruggles
The Santa Fe New Mexican
LAS VEGAS, N.M. — New Mexico's wildfire misery is about to worsen with a dangerous and perhaps unprecedented blend of conditions Saturday through Tuesday, the National Weather Service said Thursday.
The word "historic" came up regularly Thursday as fire officials and meteorologists described at least four days of wind, dryness and hot temperatures, beginning Saturday.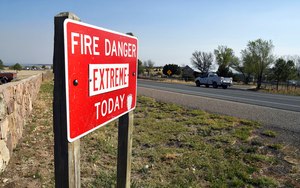 "Generally when a meteorologist tells me something is historic, I pay attention," fire behavior analyst Dan Pearson said Thursday evening during a video update on the Hermits Peak and Calf Canyon Fire.
The experts melded upbeat assessments of progress made Thursday and anticipated Friday with descriptions of the degree to which conditions will turn on them Saturday and into next week.
"It was a good day today," said Todd Abel, an operations section chief on the firefighting team. "Once again, we were able to fly aircraft all day."
But San Miguel County Sheriff Chris Lopez put the matter in perspective.
"It's been approximately one day short of a month," he said of the period spent fighting the fire. "Just when we think we're in a good place, it seems to get the best of us."
National Weather Service meteorologists Scott Overpeck and Daniel Porter said a four-day stretch of high wind and parched land is expected to intensify the already huge wildfire problem in the state. They said those severe conditions will cover much of New Mexico.
Their impact could be especially problematic near the Hermits Peak and Calf Canyon and Cerro Pelado fires, which have torn through the northern part of the state.
Porter said vast areas could be affected by the impending weather.
"These winds are going to persist in the overnight hours as well," he said.
Their cautions came on a day during which firefighting officials said they were enjoying a brief reprieve from bad weather conditions.
The Hermits Peak and Calf Canyon Fire grew to 165,276 acres Thursday but didn't penetrate the city of Las Vegas, N.M. The Cerro Pelado Fire near Los Alamos grew only modestly, to 29,368 acres.
Meanwhile, U.S. Rep. Teresa Leger Fernández of New Mexico sent a letter to U.S. Forest Service Chief Randy Moore, asking about the prescribed burn that led to the Hermits Peak Fire in April. She contended the burn was poorly timed during wind and dry conditions.
"These conditions are not rare during spring in New Mexico. I, and many in the local communities, were shocked that the Forest Service would perform a prescribed burn during these conditions." Leger Fernández said in the letter.
As officials began to look to the next several days, Overpeck and Porter of the weather service used terms such as "red flag warning" and "potentially historic fire conditions."
"And we don't like to throw those around too much," Overpeck said.
Firefighting crews fought at least five blazes, including three in Northern New Mexico and two in the southwest quadrant of the state.
Las Vegas officials were relieved by a respite from winds after a week of fretting about the growth of the fire to the city's western edge.
"So far, so good," San Miguel County Deputy Manager Jesus Romero said of managing the fire's proximity to Las Vegas.
From the city, he said, the fire appeared to smolder rather than rage.
"We have a couple good days of weather today and possibly tomorrow [Friday]," Romero said. "So they're looking to really capitalize on these days."
Melissa Greene, owner of Plaza Antiques in Las Vegas with her husband, Andy Kingsbury, said they were hanging tough in their shop on the first floor and their residence on the second.
"Well, we've been in the ready mode for four or five days now," Greene said in a phone interview.
She said they had moved some of their valuable items from the store to a customer's place in Eldorado, as well as favorite items from their home — oriental rugs, art, Native American pots, photo albums.
She said she knew embers could drop onto a building in town and start a domino effect of fire.
But the army of firefighters staying in town, from states such as California and Arizona, gave her comfort.
"I really feel that we're in good hands," she said. "I think we're going to be OK."
Romero said the fire remains a mile or a mile and a half from Las Vegas. The city is set for evacuation but it isn't mandatory.
"There's been plenty of people that evacuated just for their safety," Romero said. "They were prepared for the worst."
Kenny Zamora of Zamora Arena just north of Las Vegas said he is keeping 130 cows, calves, bulls and steers, 30 horses, 70 sheep and 10 to 15 goats for people who had to rescue their animals. "A few dogs," he added.
Zamora said he is worried about his own places. "I have property here and in Mora," he said. "We're just on edge like everybody else."
The word was more encouraging for the Cooks Peak Fire east of Taos, where the fire was 97 percent contained with 59,359 acres burned.
And fire officials reported other fires in New Mexico as well. Among those are the Bear Trap Fire in the San Mateo Mountains southwest of Socorro. The fire wasn't contained at all, according to the New Mexico Fire Information website, and had burned 2,694 acres. The website Thursday said the fire wasn't a threat to communities and no evacuations were in effect.
The Water Fire on the southeast corner of the Gila National Forest, northeast of Silver City, was 75 percent contained and had burned 765 acres.
___
(c)2022 The Santa Fe New Mexican (Santa Fe, N.M.)
McClatchy-Tribune News Service

Request product info from top Wildland Fire Products companies
Thank You!