PRESS RELEASE
Coyote Camp Introduces the New Caveman Meal
---
end picture
Coyote Camp is offering 15% off your order when you mention this press release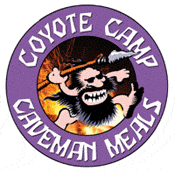 New from Coyote Camp! Coyote Camp is pleased to introduce a new generation of meal to its line of Ready-to-Eat offerings - the Caveman Meal!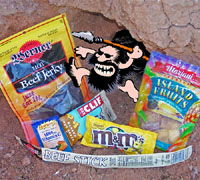 Loosely based on the paleolithic diet, the Caveman Meal is a new meal product that embraces the simplest of food preservation techniques – drying and dehydration.
High protein and nutrient dense, each 1400 calorie Caveman Meal is comprised of very high quality beef jerky, a meat stick, dried fruit, a whole food energy bar, choco-candy coated almonds or peanuts, and electrolyte replacement.
Field-tested in a variety of settings, the Caveman Meal is a lightweight, versatile meal and an excellent field ration! No mess. No prep. No flatware required. The Caveman Meal is truly a Graze-n-Go Meal.
Try a Caveman Meal with your next purchase. You won't be disappointed with the quality, and we sincerely believe you'll be delighted with Coyote Camp's continuing commitment to new product innovation.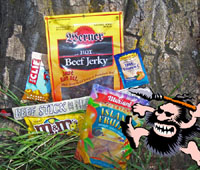 Mention this press release in the "Comments" box of your web page order at www.coyotecamp.com for a 15% credit on your Caveman Meal order!

Coyote Camp. Proven. Trusted. Reliable.