PRESS RELEASE
The Centri Precleaner Protects Your Operator & Engine from Heat & Embers
---
use if there is a picture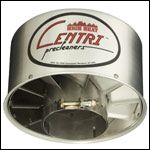 end picture
Reduce vehicle maintenance costs and increase engine efficiency by installing a Centri High Heat Precleaner

Centri High Heat Precleaners are heat resistant stainless steel and aluminum constructed. They are self contained for easy installation at any angle. The precleaners operate tempatures up to 350° F/ 177° C. The HH precleaner has shielded impeller bearings for dependable operations and has high efficiency to remove up to 90% of contaminants. It has increased engine life and performance support with low air restrictions and reduced operating costs.
Centri High Heat Prescreens are square mesh stainless steel for superior ember control. They are high temperature silicon coated fiberglass and Kevlar thread. The prescreens have proven attaching methods for confident ember control. The Centri high heat prescreens come with durable steel rings, operating temperatures up to 1832° F/ 1000° C. Centri High Heat Prescreens are custom designed to securely fit the Centri High Heat Precleaner and the air intake pipe. The prescreen restricts embers and debris larger than .036" (0.914mm).
use if there is a picture
end picture
How Centri High Heat Precleaners work:
1. Dirty air enters the Centri High Heat Precleaner installed on the engine's air intake.
2. Curved and angled vanes direct the flow of dirty air toward the stainless steel impeller
3. The impeller creates centrifugal force inside the housing.
4. The centrifugal force expels heavier-than-air dire particles (chaff, dust, snow, rain, ash, embers, etc.) out the discharge louver.
5. The precleaned air enters the engine intake pipe leaving only the very light particles for the filter element to remove.
6. For ember control with the Centri High Heat Precleaner, install a Centri High Heat Prescreen.
The Results of a Centri High Heat Precleaner:
• Increased operator safety in ember environments
• Cleaner air for your equipment
• Increased air filter life
• Increased engine life and performance high heat applications
• Reduced operating and maintenance costs