PRESS RELEASE
Wildland Fire Gear Specialist Coaxsher™ Ventures into the Wildland Fire Apparel Market with the CX Wildland Vent Brush Shirt
---
end picture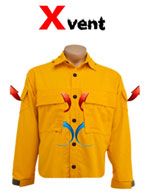 Chelan Falls, Washington, – After eight years of developing outdoor gear for wildland firefighters and search and rescue teams, Coaxsher™ is excited to announce its first venture into the wildland fire apparel market with the launch of its CX Wildland Vent Brush Shirt, patent pending. As a former wildland firefighter, company co-owner Kyle Cox felt that other shirts currently on the market needed better ventilation and increased comfort and maneuverability.
After getting input from active wildland firefighters, the Cox brothers developed and designed a prototype for testing – the CX Wildland Vent Brush Shirt. It is a long-sleeved shirt made with Coaxsher's patent pending "Xvent" system that allows heat to escape from the body. As the most advanced product of its kind, the CX Wildland Vent Brush Shirt is also lightweight, easy to access and contains multiple pockets for the storage of pens, tools and other small items needed by firefighters in the course of duty. Currently this shirt is pending certification to meet NFPA-1977, 2005 specifications.
"This type of product has been stagnant for years and was begging for an update. We spoke with wildland firefighters and asked them what they wanted to see offered. The CX Wildland Vent Brush Shirt is the result," Kyle Cox said. "We took our product to the next level with vent openings, roomy pockets and a comfortable design."
The CX Wildland Brush Shirt also contains specially-designed shoulder pockets to create space for fire-retardant padding (sold separately) to be inserted for added comfort. This feature is particularly useful for those who experience shoulder pain when carrying heavy packs and for sawyers who lug heavy chain saws over their shoulders when hiking. Available in sizes from XS through XXXL, the shirt comes in bold yellow for easy visibility. For more information about the product, visit www.coaxsher.com.
With a shared passion for the outdoors, Kevin and Kyle Cox founded Coaxsher™ in February 2001 to design and create versatile, user-friendly outdoor gear. Based in Wenatchee, Washington, their gear is used around the world by wilderness firefighters, search and rescue teams, emergency medical technicians and ski patrols. For more information about Coaxsher™, contact Kyle Cox at 800-440-3098 or visit www.coaxsher.com.

Request more info from Coaxsher
Thank You!